Durgapur gang rape case, which occurred on late hours of Sunday night, has been cracked by police in less than 24 hours. Ten contractual workers of a newspaper publication house, Darpan, were arrested late on Monday for the alleged gang rape and molestation of a 32-year-old woman near the Piyala Kali temple of City Centre, on NH 2. The accused were produced at the Durgapur sub-divisional court, and Additional Chief Judicial Magistrate, Durgapur, Koustab Mukherjee remanded the 10 to judicial custody for 14 days. Six of the accused are still absconding.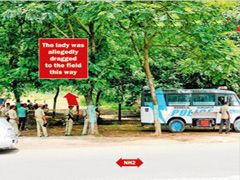 Briefing the media, about the incident Asansol-Durgapur police commissioner Ajay Kumar Nanda on Tuesday said that five persons had raped the victim and at least 11 molested her. "The keys of a moped left by the accused at the crime scene provided us with the lead," explained Nanda. "We found that the owner of the vehicle stayed in nearby Korapara and worked at Darpan Printing Press at City Centre. We raided the press and arrested the 10. Among them, Sunil Kora and Sona Kora have admitted that they raped the victim finding her intoxicated so late at night," he added.
The suspects – Sunil Kora, Sona Kora, Budhan Kora, Prakash Kora, Bisu Kora, Suresh Kora, Pappu Singh, Sujit Orao, Asit Das and Mukesh Orao – are all aged between 19 and 25 years. They have no known criminal antecedents. They used to get a monthly salary of Rs 1,500 to Rs 2,000 and were engaged in newspaper binding, distribution, and plate maintenance work at Darpan Printing Press of City Centre, police said. Their work shift ended at 2am.
Nanda said the crime took place between 1.30am and 2.30am. The woman told police that her husband, who is a bank manager in Hooghly's Tarakeshwar, had called her to Durgapur to resolve some marital issues. She was accompanied by a gynecologist based in Asansol, who is incidentally her co-partner of the diagnostic centre, which they jointly run. The woman had an argument with her husband and was about to head back to Asansol when Sunil and Sona spotted her. Seeing a woman with an elderly person that late in the night, they called up their friends. Sixteen men pounced on the couple. Some of them assaulted the victim's husband and companion while the others dragged her into the bushes. She was molested by about 10 to 12 persons and then five persons raped her, say police. The accused returned to their homes in nearby Korapara and Bauripara and joined work on Tuesday, as usual.
In Kolkata, DGP Naparajit Mukherjee claimed that the 10 arrested worked in the printing press where the CPM's party mouthpiece "Ganashakti and some other small newspapers are published". The DGP said he was not aware of the names of the "other small publications". Durgapur mayor Apurba Mukherjee alleged that all the arrested are CPM supporters. Ganashakti is printed at night and the other papers in the day, he claimed.
The DGP, however, said he was not aware of any political affiliation of the arrested, only that they were contract workers. Report suggests that apart from the CPM mouthpiece Ganashakti, quite a few other newspapers are printed from this very printing press. Darpan publication website suggests that the newspapers that are published regularly from Darpan includes, Ganashakti, Sambad Pratidin, Aajkal , Dainik Jagran, Ekdin, Sakalbela, The Bengal Post,Lottery Sambad, Uttarer Saradin, Kolkata Saradin , etc.
Ganashakti editor Narayan Dutta clarified, "Ganashakti doesn't have its own press in Durgapur. We, like several other newspapers, have been using this private printer since 2004. The contractual employees are engaged in newspaper binding. They are not our employees and have no connection with us. We protest the manner in which Trinamool is using this to make false allegations against Ganashakti," Dutta said. Fearing an attack, CPM leader Binoy Krishan Chakraborty has urged the police to provide posting outside the press. The CPI-M's state committee leader, Mr Rathin Roy, distanced his party from the 10 accused. "The accused were never associated either with the CPI-M or with Ganashakti," he said. "They were workers at a press that prints many other dailies other than Ganashakti. Two of these are owned by a group whose media section CEO is a Trinamool Congress MP," he said.
Youth Trinamool Congress staged a demonstration in front of Ganashakti's office in the afternoon, alleging that it was harbouring criminals. "It is shocking that the former MLA and district committee leader of CPI-M who supervise the daily work of the newspaper in the office didn't notice the culprits. The leaders cannot evade responsibility," Youth Trinamool Congress leader Raju Chatterjee said.
Likes
(

1

)
Dislikes
(

1

)