Two contractual labourers died of electrocution at the Indian Railway's Chittaranjan Locomotive Works (CLW) on Sunday, about 55 Km from Durgapur. Three others have been severely injured.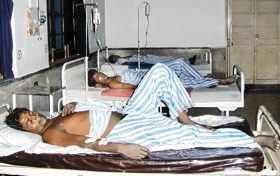 The two contractual labourers who died in the accident are Hassan Ansari, aged 22 and Akram Ansari, aged 23. Both are from Jharkhand.
The incident created a massive worker's protest in the factory premises. A few hundred labourers staged an agitation after the mishap, alleging lack of safety arrangements. The protesting labourers demonstrated, blaming the management for violating safety rules which caused the mishap.
Police had to be called to control the agitating labourers after two senior engineers of the plant were heckled by some contractual labourers. Even RPF was called upon. Mr. Amitava Das, SDO of Asansol visited the factory after the incident.
Initial report suggests that like every Sunday, this Sunday also productions in the factory remains stopped as per norms. As there was no production involved, so the job of painting the overhead crane and the allied guarders of Main Shop 5 were undertaken. 13 contractual workers were engaged in the painting job. Suddenly, 5 of the labourers got electrocuted by the 33,000 volt electric line passing over the guarders, where they were painting.
One of the labourers died on the spot. The rests were rescued and rushed to the Kasturba Gandhi Hospital of Chittaranjan Locomotive Works. One more labourer died in the hospital. Three other labourers have been admitted in the ICU department of the hospital.
Management of CLW said that while painting overhead cranes and guarders, snapping power supply of the 33,000 volt line is a must. But from initial investigation it appears that the job of painting was started without following the norm of snapping the power supply. The contractor who has been entrusted with the job will reveal the truth, sources said.
However, most of the agitating employees of the plant and the contractual workers said, that the job was started after snapping the power supply, but someone have switched on the power causing the deadly mishap.
The CLW authority besides reporting the matter to the Railway Board, has ordered a probe. All the workers of the plant irrespective of their party colours demanded suitable and fast compensation for the family of the dead. They also demanded that those responsible for the mishap must be given exemplary punishment.
Likes
(

0

)
Dislikes
(

0

)