After the news of assault on the General Manager (GM) of Balaji Steel at Durgapur made national news headlines, Trinamool Congress seemed to disown Ashim Pramanik, the General Secretary of its labor union, INTTUC. The government also rushed in with some face saving act, which was in sharp contrast with its lukewarm response when trouble erupted in Haldia and led to the eventual pullout of Haldia Bulk Terminals (HBT).
Partha Chatterjee on Sunday said in Delhi, that the people associated with this incident does not belong to INTTUC, and simultaneously pointed out there was lapses on the part of owner of the unit as well, and today, Prabhat Chatterjee, INTTUC Bardhaman district president, said, "We do not know Pramanik and he has no links with Trinamool or the INTTUC.". But Ashim Pramanik insisted that he is the general secretary of INTTUC in the plant and is in possession of affiliation certificate from INTTUC state wing, spilled the beans on the faction-ridden labor politics. "Prabhat Chatterjee is trying to put his followers in place of me as I belong to his rival camp. I have become a scapegoat," said Pramanik.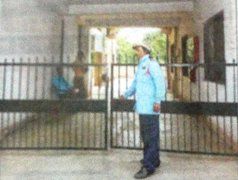 Purnendu Bose, the state labor minister and former Trinamool union leader, told, "Our government's declared stand is that we will not encourage any kind of militant trade unionism. If any individual or group belonging to any party has any problem with the authorities, they should try to peacefully resolve the matter and the factory should not close under any circumstance." Bose added that he had spoken to Rajiv Jajodia, the director of Jai Balaji Industries that employs 5,000 permanent employees and about another 5000 contractual workers in the plant. Delay in payment of salaries was cited as the reason for the unrest. "I told him that action will be taken if it is found that any kind of unlawful activity has taken place."
Meanwhile, FIR has been filed against Ashim Pramanik, Arun Pal, Pannalal Ghosh and Rabi Acharya, but they could not be arrested because they were booked under a bail-able offence and had been granted bail by the court. Pramanik surrendered in court yesterday and was released on bail. However, Pal, Ghosh and Acharya, who were permanent employees of the company, have been suspended by the company authorities.
There was a large contingent of police posting at the gate of the Jai Balaji factory at Banskopa of Durgapur. The Jai Balaji Industries unit at Banskopa in Panagarh functioned normally today. "There has been no problem and we were fully functional today, thanks to the cooperation of all the government agencies. There was absolutely no problem today," said K S Nair, senior manager (personnel administration). However, Niranjan Gourisaria, senior vice-president of Jai Balaji Industries said, "some of our executives have not come today out of fear." Arun Thatoi, the general manager who has complained of the assault, didn't go to factory and preferred staying at home.
Joint MD of Jai Balaji Industries Rajiv Jajodia, on Sunday hinted at a rerun of Haldia when he said that their officials were scared and that they had informed the administration that they would not be able to work there if the situation did not improve. However, yesterday after positive responses from the government, he expressed his willingness to continue. The company has invested around Rs 4,000 crore in five units in and around Durgapur, providing employment to about 10,000 people.
Likes
(

0

)
Dislikes
(

0

)