The Indian Air Force Station at Panagarh near Durgapur is fast being developed with a focus to deal with the defences of the Indian states of Arunachal Pradesh and Sikkim. After Cabinet Committee on Security approved the Army's proposal, infrastructure development work has already started at Panagarh Air Force Station.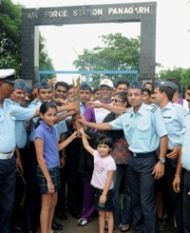 The air force establishment at Panagarh, barely 11 Km from Durgapur was developed by the US army during World War II for what is known as the 'Over the Hump' operations against the Japanese. Today, after nearly 70 years, Panagarh is well on its way into being developed as a hub that will deal with the defences of states like Arunachal Pradesh and Sikkim along the Line of Actual Control (LAC). With routine incursions by the Chinese People's Liberation Army (PLA) reported from Arunachal Pradesh, the process to develop Panagarh has been expedited by the Army and Indian Air Force (IAF).
Recently, Air Marshal Ravi Kant Sharma, AOC-in-C, Eastern Air Command, visited Air Force Station Panagarh and reviewed the situation there. The second lot of C-130J Super Hercules, that are to be procured by the IAF soon, will be stationed at Panagarh. Induction of the C-130J at Panagarh — the second squadron after the Veiled Vipers at Hindon — will enable IAF to mobilize troops to the forward eastern front in the shortest possible time. Lockheed Martin will build necessary infrastructure for the aircraft at Panagarh, as part of the package.
During his visit to Panagarh, the Eastern air commander emphasized that the air base — used as a diversionary one till recently by the IAF — is of great strategic importance. "The base is being developed as one of the major flying bases in the Eastern Air Command," he said. He also urged that officers and air warriors at Panagarh adopt a pro-active approach to ensure timely completion of infrastructure development for the Super Hercules.
With the Cabinet Committee on Security approving the Army's proposal to raise a Mountain Strike Corps, preparations are also on to develop the infrastructure facilities for the 45,000 officers and personnel at Panagarh. Senior officers of the Eastern command have already carried out aerial reconnaissance of the existing base at Panagarh to work out details.
"The Corps should get fully operational from Panagarh within the next few years. It will have two infantry divisions, each with nearly 15,000 men trained in mountain warfare," an officer of the Indian Air Force added.
Likes
(

5

)
Dislikes
(

1

)