West Bengal government has decided to set up an "Open Correctional Home" at Durgapur, so as to give more freedom to jail inmates. This would be second such home in the state for convicts. The first and the only open correctional home of the state is at Lalgola in Murshidabad district, set up in 1987.
The proposed open-air correctional home at Durgapur will be set up on 9 acres of land belonging to the jail department adjacent to the Durgapur sub-jail and is supposed to house 35 cottages. The Lalgola Open Air Correctional Home has a capacity for 100 prisoners including accommodation in 20 cottages in the campus where prisoners are able to stay with their families.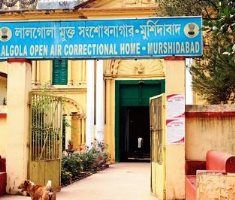 Unlike in other jails, the inmates of open-air correctional homes live with their families and are allowed to go out and pursue a vocation of their choice. From 0600 hrs till 2000 hrs the prisoners of open correctional homes are free to go anywhere they like and can pursue any vocation within or outside the correctional home premises. However, they must return to the correctional home by 2000 hrs.
Convicts sentenced to imprisonment for a period of 7 years or more and such of them as have already served 2/3rd of their sentence and have maintained all along a good jail record are eligible for transfer to the open air correctional home after thorough screening and personal interview by a board constituted for such selection.
The department of correctional administration prepared the proposal to set up an open-air jail in Durgapur after receiving a directive from the Union home ministry in July last year. Bengal has been lagging behind other states in the number of open-air correctional homes.
The directive asked the state government to build more open-air jails so that people living in them "can make out a living and more convicts can be brought to the mainstream".
Durgapur has been chosen mainly for urban convicts. The 9 acres selected is free from any kind of incumbency. Infrastructure such as kitchens, stores, barracks and wards are already there. Those who will be sent to the Durgapur facility will have to fulfil some additional parameters. They will have to have an urban background, will have to be less than 60 years of age and have a record of good conduct all along.
Asked whether there was chance of prisoners fleeing while remaining outside the correctional home, state minister for Correctional Administration Department Haider Aziz Safwi said, there was only one example where an inmate who was suffering from cancer fled, but was later apprehended. The minister further added that sometime later the prisoner committed suicide in jail.
The convicts at the Durgapur facility will be trained in motor-winding, electrical wiring, repair and maintenance of two-wheelers, four-wheelers and cellphones and plumbing.
Likes
(

0

)
Dislikes
(

0

)