Citizen of Durgapur took out a candle light march condemning increased incidents of rape, violence and molestation on women in West Bengal. The brutal gang rape and murder of a 20-year-old college girl at Kamduni near Kolkata triggered a large-scale public outcry throughout the state. And today, Durgapur also protested, not only the incident of Kamduni, but also of many such recent incidents.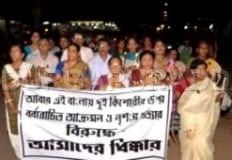 Few hundred citizens of all ages gathered at the Tilak Maidan ground in the heart of the Steel Township at around 6:30 pm and with lighted candles in their hands the protest march began. As the rally headed towards Chandidas Market of the Steel Township, it began to swell up. Many local residents gradually joined the rally and it grew to a number not less than a thousand.
It was a peaceful rally where there was no slogan shouting. It was merely the call of the conscience of the people which took them to the rally. The way in which people participated in the rally spontaneously without any political patronage tells the concern of the people of the state about the increase in crime against women.
According to the latest National Crime Records Bureau (NCRB) statistics that has been out this month West Bengal has topped the charts for crime against women. According to the NCRB report, 30,942 cases of crime against women were reported in 2012, the highest in the country. In 2011, the number of incidents of crime against women in West Bengal was 29,133.
West Bengal accounted for 12.67 per cent of the total crime committed against women in the country while Kolkata ranked the third most unsafe metropolis for women, behind Delhi and Bangalore. The statistics depicted a grim picture of West Bengal with more than 2,000 cases of rape registered in 2012 alone.
Though there was no slogan shouting, but the unanimous call from the rally was, crime against women must be stopped. "We don't want any more incidents like Kamduni or Geday or Katawa or Park Street" said one of the women who participated in the rally with her daughter reading in a college.
However, the way in which police van escorted the peaceful rally was something which didn't escaped the eye of anyone. The rally ended at the Chandidas Market of the Steel Township of Durgapur.
Likes
(

0

)
Dislikes
(

0

)