Bidhannagar locality of Durgapur was gripped under a sense of anxiety and tension after charred bodies of a pregnant woman and two girl child were found inside a school run by an NGO. The two girl child is perhaps the two daughters of the pregnant women aged around 28.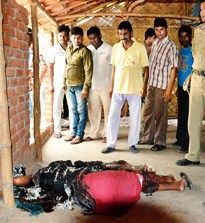 Local boys smelled some bad burning odour originating from the thatched temporary structure of the Sisu Siksha Kendra run b y an NGO Setubandha at the Charso More of Bidhannagar of Durgapur. The children playing near the Sishu Kendra were shocked to see the scene inside the school's thatched veranda and informed senior residents.
Local residents said that they rushed to the hut and saw the charred remains of a mother holding a baby in hand lying on the floor and another girl-child lying beside them. Their faces were distorted. The baby the mother was holding in her arms was nearly seven months-old. The other girl lying beside was aged nearly 6 years.
The spot is located at the border of the areas of responsibility of Asansol Police Commissionrate's New Township Police Station and Kanksa PS in Burdwan Police District, which led to some jurisdictional confusion. However at the end Kanksa PS took the responsibility and recovered the charred bodies and sent them for post-mortem
The post-mortem report is pending. Till this evening their identities couldn't be ascertained. The SP, Burdwan, Mr. S M H Meerza said: "The woman's legs were tied with a rope and the faces of the deceased were burnt purposely to distort their identity."
He added: "The SSK was not the place of occurrence. The bodies were dumped there to mislead investigations." The three, according to police, were killed either by poisoning or by administering heavy sedative dose and transported to the SSK. Their faces were wrapped with plastic bags which were set on fire to distort their identities.
Likes
(

0

)
Dislikes
(

0

)