After Saradha scam shook Bengal, more news of fraudulent chit fund companies robbing investors of their hard earned money have came into light. News of chit fund companies closing down, agents and depositors committing suicide, chit-fund companies offices being ransacked, agents being beaten up by depositors, owners being beaten up by agents and depositors habe became news headlines every day.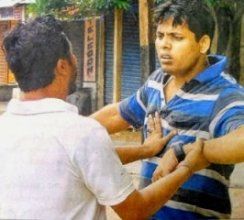 One such incident took place in the industrial town of Durgapur. Yesterday, depositors and agents of Satyaseva Reacon Ltd, a chit funds company in Durgapur, assaulted the owner, who had gone into hiding after closing down his offices in February.
Uttam Das, the owner of Satyaseva Reacon Ltd, after defaulting on paying maturity of around Rs 50 lakh had been staying in a rented house in the Durgapur Steel Plant quarters in Steel Township of Durgapur, about 8km from his home, with his family for the past few months.
Yesterday, the depositors and agents after identifying his hideout caught hold of him from his residence and after beating him up, handed him over to police. Several police complaints had already been lodged against him in the past few months.
One may recall, that in the initial days when Saradha scam first came in to news headlines, the office of Satyaseva Reacon Ltd at City Centre of Durgapur was raided and ransacked by depositors and agents on 16th April.
Reports says that, he company had recruited 20,000 agents in the past two years and had collected nearly Rs 1,000 crore. The police said Das used to invest depositors' money in ventures such as fisheries, poultry and food products.
Likes
(

0

)
Dislikes
(

0

)