The industrial town of Durgapur was in news for the last one month as the whole of Bengal kept their eyes on the Joint Bargaining Council (JBC) election of Durgapur steel Plant (DSP). This election assumed more significance as Trinamool Congress backed trade union INTTUC participated in this election for the first time. In a changed political scenario, CITU which was not considered to be a major force won the JBC election of SAIL's Durgapur Steel Plant (DSP) defeating Trinamool Congress-affiliated INTTUC.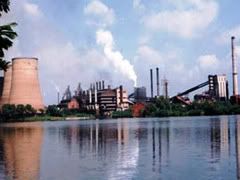 Five labour unions, CITU affiliated Hindustan Steel Employees' Union (HSEU), INTTUC affiliated Hindustan Steel Workers' Union (HSWU), AITUC affiliated DSP Staff Union (DSPSU), BMS-backed DSP Staff Sangha (DSPSS) and INTTUC affiliated DSP Mazdoor Union (DSPMU) were in the fray.
The keenly fought election witnessed a massive voter turnout of around 99 percent voters. Only the permanent employees of Durgapur steel Plant were allowed to vote. Out of10575 valid votes, HSEU garnered 4097 votes, while DSPMU emerged a close second getting 4074 votes. HSWU became third getting only 2220 votes. These threes labour unions will be the part of the JBC in which HSEU will be the Principal Bargaining Agent. As no unions got more than 50 percentages of votes, there will be no Sole Bargaining Agent in the JBC.
After winning both the assembly seats of Durgapur in this year's assembly poll, TMC affiliated trade union, INTTUC was quite convinced that they will get more than 50 percentages of vote and will control the JBC becoming the Sole Bargaining Member of the JBC. However, the workers of DSP kept their faith on CPI (M) backed trade union HSEU, making it the largest union in DSP.
Last time JBC election was held at DSP in 2004. That time HSEU emerged as the largest union getting 47.8 percentage votes and HSWU became second getting around 43 percentage votes. In spite having registration in 2001, INTTUC didn't fight in that election.
Likes
(

0

)
Dislikes
(

0

)