Inter-party clashes between two rival factions of INTTUC, the labor wing of Trinamool Congress have left at least six Trinamool Congress supporters and three policemen injured in Durgapur. Police have arrested 12 persons of the two rival factions in connection with the incident.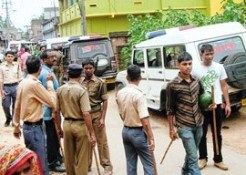 Trouble erupted in Amrai village, 2 Km from the Main gate of Durgapur Steel Plant, under the Durgapur municipality area yesterday morning, when two groups of INTTUC members clashed with each other. Armed members of the 'official' group, headed by Mr. Nirod Biswas, allegedly attacked the camp office of the 'ousted' faction led by district INTTUC secretary Mr. Probhat Chatterjee at around 11 am yesterday.
The INTTUC-affiliated "Thika Mazdoor Congress", led by Mr. Probhat Chatterjee, had been regulating the absorption and retrenchment of contractual workers at SAIL's Durgapur Steel Plant since the past three years; they had allegedly been dictating terms at the plant after the change of guard in the state.
On 22 May, the Central Committee leadership of the INTTUC led by its chairman, Mr. Sobhondeb Chatterjee, declared Mr. Probhat Chatterjee's faction as 'unofficial'; and a new union, "Durgapur Thika Mazdoor Union" was then floated with Mr. Nirod Biswas as secretary. Mr. Chatterjee, belonging to the INTTUC faction of Dola Sen, Purnendu Bose however didn't accepted the declaration by INTTUC chairman, Mr. Sobhondeb Chatterjee, in which the affiliation of Thika Mazdoor Congress was not renewed and was declared "unofficial".
Muscle flexing by the supporters of both the factions started immediately after the open meeting of INTTUC central committee leaders at the Main gate of Durgapur Steel Plant on 22nd May, to take control of the labour wing of INTTUC in Durgapur Steel plant.
"Chatterjee and his men had been snatching gate-passes of our members and assaulting them; they had been threatening us with dire consequences since the past few months," claimed Mr. Biswas.
Mr. Probhat Chatterjee is the Mayor-In-Council (PWD), Durgapur Municipal Corporation, is the leader of the party's rival group. Members of Mr. Biswas's group allegedly attacked the under construction office of Mr. Chatterjee's followers at Amrai. Some alleged that Sheikh Mani belonging to the former's group had been seen hurling bombs indiscriminately.
Three policemen who had just arrived at the spot sustained splinter injuries. Forces from four investigation centres and one contingent of RAF were pressed into operation. Four of Mr. Chatterjee's group members also were injured.
Mr. Nirod Biswas lodged an FIR with the Durgapur police station; police have arrested eight members of Mr. Biswas's group and four of Mr. Chatterjee's group.
"The police action was biased as trouble started when members of the rival group abused our members without any provocation," claimed Mr. Biswas.
Mr. Chatterjee, on the other hand, blamed his rivals. "They intruded into the locality and were accompanied by Congress and CPI-M members. I have reported the matter to the party higher-ups," he said.
Likes
(

0

)
Dislikes
(

0

)