Durgapur witnessed a violent clash between two factions of Trinamool on Sunday afternoon. Five persons belonging to the two rival factions were injured in the clash and had to be admitted to hospital. Police had to intervene to stop the fighting.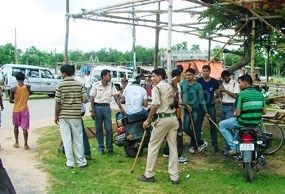 Trinamool sources revealed that the clash between the two factions was over the issue of constructing cycle stand on the occasion at the Rajiv Gandhi Mela Maidan of Durgapur's Steel Township. Like every year, on the occasion of Ratha Yatra, there will be a huge fair at the Rajiv Gandhi Mela Maidan.
There was a minor clash on the issue of controlling the cycle stand a few days back between the two factions of Trinamool Congress. The two factions were Trinamool Yuva and the youths of Trinamool Congress. However on the intervention of Durgapur Mayor and Trinamool District Secretary, Mr. Apurba Mukherjee, the two factions decided to settle the matter mutually. But Sunday's clash points to the fact that the two factions failed to settle the disputes mutually.
Councillor of Ward No. 5 of Durgapur Municipality Corporation, Mr. Krishnendu Acharjee of Trinamool Congress alleged that when he and his supporters were fencing their designated cycle stand area, some supporters of Yuva Trinamool prohibited them and restored to beating when they protested.
Tanmoy Dubey, the Trinamool Yuva leader of Durgapur however alleged that Trinamool supporters beat him and other Trinamool Yuva supporters as they declined to give away the control of all the cycle stands at the Mela Maidan.
Trinamool supporters, Partha Pratim Mitra and Mansha Tiwary had to be admitted to Durgapur Sub Divisional Hospital.
Both the rival factions lodged complaint with police at Durgapur alleging the other faction of beating.
Police sources said that investigation has been started.
Likes
(

0

)
Dislikes
(

0

)