A class VII student of Hem Sheela Model School of Durgapur has made the city proud by securing third position in an essay competition on "NASA Space Settlement Contest" organized jointly by the National Aeronautics and Space Administration of USA and AMES Research Centre in California.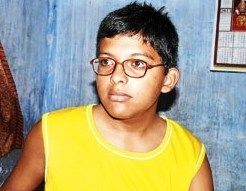 Amik Mondal, a Class VIII student of Hem Sheela Model School, one of the leading public schools of Durgapur, participated on this global contest by knowing about it from internet and wrote a sixteen page essay on how man can use space for living. He recently found his name on the winners' list put up in the NASA website and is all set to attend the international conference in San Diego on May 23.
NASA invites papers in support of space settlement project from students from Class-VII to class-XII all over the world for the contest, which it is organizing since 1994. In response, NASA received nearly 600 papers from students worldwide this year. Among the participants from India, were many groups from different schools, besides several students in individual category.
Altogether ten school teams and six individual participants from India won this year in different categories. Amik has been adjudged the third prize winner in the Class-VIII individual category.
Amik's father Asit Baran Mondal, who is an employee of Durgapur Steel Plant, approached the Bengal government for support as the ticket will only cost more than Rs 2.5 lakh. On Tuesday, youth affairs minister Aroop Biswas handed over a cheque of Rs 1 lakh to the teenager to help him attend the programme.
After receiving the cheque, Amik is now hopeful of attending the programme at San Diego and receive his award at this year's International Space Development Contest. "We shall be starting on May 22 and reach there on May 23. I think I will learn a lot from this trip," Amik said.
Likes
(

2

)
Dislikes
(

0

)