Chief Minister, Mamata Banerjee inaugurated yet another festival amidst wide criticism from the opposition. This time it is the festival of Earth, which has been named, "MAATI UTSAV" was inauguratde at Panagarh, near Durgapur.
Inaugurating the 10 crore festival at Panagarh, yesterday, CM made it very clear that she will not be deterred by opposition's criticism and divulged her plan to organize more such festival throughout the state, in days to come. At the inaugural function was present, noted writer and social activist, Mahashweta Devi, noted painter and close Mamata aide, Jogen Chowdhury and Suvaprasanna and also noted song writer, lyricist and singer, Nachiketa.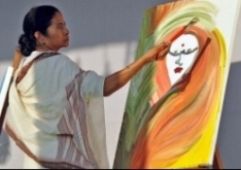 Chief Minister Miss Mamata Banerjee's brainchild 'Mati Utsav' (Earth festival) aims at promoting cultures and traditions of rural Bengal that are fast losing out to urbanization. Theme-based activities relating to agriculture, fisheries, handloom, tourism and culture have been incorporated in the festival to help boost rural life.
Panagarh, barely 13 Km from the industrial town of Durgapur is virtually on the 'confluence' of the agricultural and the industrial regions in Burdwan district, has been chosen as the venue as it synthesize the lifestyle, livelihood and societal setup of the two poles, – industry and agriculture.
In what must have come as a surprise to many was the presence of well-known writer Mahasweta Devi, who after almost 20 months shared a public platform with Ms Banerjee. The Magsaysay Award winning author and social activist said that the people of Bengal had full faith in the chief minister and they were optimistic that she would fulfill all their aspirations.
Chief opposition party, CPM and Congress questioned the need and effectiveness of organizing such festivals, at a time when the state exchequer is almost empty and many development programmes have been stalled by the state government, on the ground of inadequate fund.
Likes
(

0

)
Dislikes
(

0

)