Union government today issued de-allocation letters for eight coal blocks, including one near Durgapur. The Durgapur-II/Sariya block, which was allocated to B D Power has been de-allocated after a meeting of the Inter-Ministerial Group.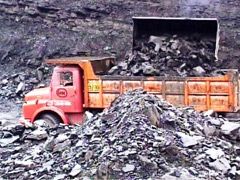 After the Coal-gate scam, the Coal Ministry and Inter-Ministerial Group were keeping a close watch on various coal blocks that were allocated to various companies, either solely or jointly. At a high level meeting of the Inter–Ministerial Group, the decision of de-allocating at least eight coal blocks were taken. "The Government has issued letters for at least eight coal blocks given to a single company or jointly," Ministry sources told PTI.
Coal Minister Sriprakash Jaiswal has said the process to de-allocate 13 blocks was underway, but as of now decisions have been taken on eight of them. Mr. Jaiswal, further clarified, that the blocks were de-allocated by the government as they were not developed within a stipulated time frame and for which satisfactory explanations were not given.
The blocks de-allocated were Bhaskarpara allocated to Electrotherm India and Grasim Industries, the Durgapur-II/Sariya block allocated to B D Power, Dahegaon and Makardhokra-IV block jointly allocated to IST Steel & Power, Gujarat Ambuja Cement and Lafarge India, the Gondkhari block allocated to Maharashtra Seamless, Dhariwal Infra (P) Ltd and Kersoram Industries, the Marki Mangli II, III and IV blocks meant for Virangana Steel and Chinora and Warora (West) for Field mining and Ispat, the Ramanwara North block in Madhya Pradesh allocated to SKS Ispat and Power and Nered Malegoan block allocated to Gupta Metallics and Gupta Coal. Among companies affected by the de-allocation were Grasim Industries, Gujarat Ambuja Cement, Lafarge, B D Power, Electrotherm and Kesoram Industries.
Likes
(

0

)
Dislikes
(

0

)