Durgapur – the industrial town of eastern India came into the national news due to the killing of coal mafia Sheikh Selim (50) by some unidentified miscreants. The incident occurred on Thursday (25th October) near his house at Kailashpur in Madhaigunj which falls under Laudoha police station near Durgapur.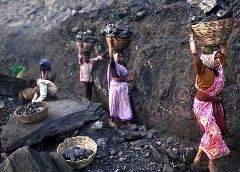 Sources said that at around 4.30 pm, Selim went to a local shop to purchase mineral water when two miscreants on a bike opened fire on him. Sensing danger, he started running but the goons started following him on motorcycle. However, Selim couldn't escape as the miscreants fired at him from a close range. Selim was immediately rushed to the Mission Hospital in Bidhannagar of Durgapur, where he was declared "brought dead".
Ajay Kumar Nand, police commissioner of Asansol Durgapur, said that confirmed that some unidentified miscreants shot the coal mafia Sheikh Selim from close range near his house. He died on the way to hospital. He further added, that police have started probe and were trying to track the assailants. He also informed that Selim was recently released from jail and was on bail.
Sources said that Selim had earlier escaped an attack in 2009, when two of his associates were killed. They said that the needle of suspicion is on Selim's arch rival Sheikh Amin, who is currently in jail, who had dethroned Selim at Laudoha and became an undisputed leader there and the adjoining Pandaveswar area a few years back. "But Selim was desperate to regain control in the areas. This might have led to today's murder," sources added.
A number of mafia groups are involved in illegal mining activities, especially in the coal-bearing tracts of eastern India. Ranigunj being one of the largest suppliers of coal is a hot bed for mafia and goons who are at constant war against each other over illegal mining of coal. Though Selim was earlier patronized by the former left government, but before the last Lok Sabha election, he switched his loyalty to Trinamool Congress.
The murder of a coal mafia don in broad day light near his house has put a serious question mark about the law and order situation of Asansol Durgapur Police Comissionerate. It seems that though the CM, Mamata Banerjee has set up her dream police comissionerate by bifurcating Burdwan district police last year and entrusted her close IPS officer as first police comissioner to minimize illegal coal mining in Ranigunj coal belt her plan has flopped miserably.
Likes
(

3

)
Dislikes
(

1

)