Durgapur with an inspirational growth story in the last ten years is indeed the pride and delight of its residents. The news of the phenomenal growth of Durgapur has attracted the attention of national and multinational companies. Numerous new projects are coming up in near future which will undoubtedly make Durgapur the most happening place of West Bengal.
In spite of all these talks of bright future a very intriguing fact which may prove to be deterrent for the future growth of Durgapur is the frequent jamming of NH2 in Panagarh. Kolkata is at a distance of 180 Km from Durgapur and NH2 connects Durgapur and Kolkata by a four lane expressway. But at Panagarh this four lane expressway becomes a bi-lane without any divider in between for a stretch of 4 Km approximately. For this entire stretch of 4 Km, the road runs through Panagarh Bazaar which is extremely busy and also the road condition here is so poor that traffic comes to halt every now and then causing hours of delays. Rapid progress of Durgapur has necessitated the need for the residents of Durgapur to travel to Kolkata frequently, but traveling to Kolkata from Durgapur or to Durgapur from Kolkata has became a real menace.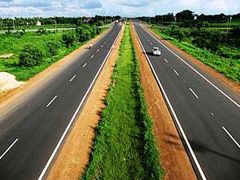 After the completion of the Durgapur Expressway regular buses of South Bengal State Transport Corporation (SBSTC), West Bengal Surface Transport Corporation (WBSTC) and several private operators runs between Durgapur and Kolkata at regular interval. But the road condition and the traffic jam at Panagarh is a real headache. Whether its morning time, noon time or evening, it will take nothing less than 30 mins to cross this 4 Km long stretch. And at times traffic jam can cause delays of 2 to 3 hours. If one eliminates Panagarh, the remaining distance between Kolkata and Durgapur can be covered in a maximum of 2 hrs to 2 hrs 15 mins.
Authorities including State Government needs to find a viable solution of this problem so as to present Durgapur to the global investors in a better way. Talks were round the corner about by-passing Panagarh Bazaar and constructing a alternative route. But unfortunately political pressure and pressure of the local businessman of Panagarh has been an interrupting factor in creating a by-pass to avert the bazaar. Something needs to be done on an urgent basis so as to eradicate this problem and reduce the journey time to Kolkata from Durgapur, Asansol, Dhanbad and adjoining areas.
Likes
(

0

)
Dislikes
(

0

)