Illegal selling of government land and money extortion allegation on a Trinamool Congress leader of Durgapur by his party colleague became the main news of the industrial town. This shocking revelation not only point towards corruption charges but also towards factionalism within TMC.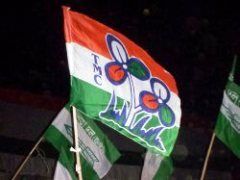 Sushanta Sarkar, a Trinamool youth wing leader in Durgapur has accused that, Arabinda Pal, a party senior is illegally selling government land lying unused for several years. Sarkar's allegation against Pal comes a day after he and his workers caught a grocer fencing off a plot in a ward 20 of Durgapur Municipality Corporation (DMC), represented by the mayor's wife. The grocer, Nayan Mondal, said he had paid a sum of Rs 2 lakh as advance to Pal, the chairman of the councilor's committee of ward 20 of DMC, for two cottahs of land in Srinagar Pally that had been lying idle for over two decades. Mondal further added: "I didn't know it was a vested plot. Arabinda Pal had assured me there would be no problem if I built a house there. He also said he would get the plan approved by the local civic body and register the land in my name with help from councilor Anindita Mukherjee (the mayor's wife). But now I want my money back."
Pal denied the allegation. "Nayan Mondal had approached me to help him get the plot but I refused because I knew it was vested land. Our party does not encourage such illegal deals," he said. Arabinda Pal, earlier a CPM councilor from the same locality was sacked from the Left party on charges of corruption. He then joined Trinamool Congress, with hundreds of his supporters, about two years ago, before the assembly election. He is now the chairman of the councilor's committee in ward 20.
Sources said Pal had earlier sold some vested plots at half the market price. According to land brokers, the government rate in the area was between Rs 8 lakh and Rs 10 lakh a cottah. Sarkar alleged that Pal often used his "influence" to persuade civic body officials to allow the selling of vested plots. "Usually, there are no objections, unlike this one," a Trinamool leader said.
Sarkar said Pal indulged in several illegal activities other than selling vested plots. "He also extorts money in the name of the party," he alleged. Some Trinamool leaders sniffed factionalism. A district committee member said, "As Pal had become popular in the party in a very short soan of time and this may have angered Sarkar".
Likes
(

0

)
Dislikes
(

0

)