CPM in Durgapur has alleged that the former Gram Panchayat Pradhan of Durgapur's Jemua Panchayat has been prohibited from casting his vote on Monday. Not only the former Panchayat Pradhan, many other villagers were also forced to return back from their way to polling booths without being allowed to cast their voting rights. CPM leadership of Durgapur has already lodged their official complaint with the state election commission.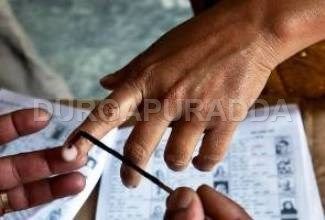 According to local sources, Debi Ruidas, the former CPM Panchayat Pradhan of Jemua Panchayat was going to cast his vote for the seat number 6 of Jemua Panchayat at the Kaligunj Primary School's booth number 83/2. He was obstructed on his way to the polling station, at first by some local Trinamool supporters and activists and then by Trinamool men on Motorbikes, who were "outsiders".
In 2008, after CPM candidates won all the 9 seats of Jemua Panchayat, Debi Ruidas was made the Panchayat Pradhan. Ruidas alleged that after Trinamool Congress came to power in Bengal in 2011, he was once ghearoed and then locked up in the panchayat office. Police from New Township police station of Durgapur rescued him that time. After that in the last two years he has not been allowed to enter the panchayat office. "Receiving threat from Trinamool men have become an essential part of my life", alleged the former Panchayat Pradhan.
Pankaj Roy Sarkar, the secretary of CPM local committee in Jemua-Bidhannagar has complained to the State Election Commission about the incident that took place in Jemua on Monday. Sarkar informed that they have demanded re-polling.
The Jemua panchayat under Durgapur-Faridpur block adjacent to the main town area of Durgapur has 11 seats; out of which Trinamool has already won 4 seats uncontested. CPM leaders have alleged that on the voting day (Monday, July 15) Trinamool resorted to widespread booth capturing in booth numbers of 84 to 88 of Kaligunj, Tetikhola, Shankarpur and booth number 78 of Parangunj.
CPM leader, Pankaj Roy Sarkar, alleged that on Sunday night, the night before the voting day, Trinamool men threatened the polling agents of the party. But ignoring the threat, when the agents went to the polling booths, they were not allowed to enter the booths. "After that it was free run for the Trinamool men. Not nly common men, but even the last Pradhan of Jemua Gram Panchayat was barred from casting his vote. It's a shame for democracy," said Sarkar.
Left Front Chairman Biman Basu has said that what is happening is a mockery of the Panchayat elections. It is obnoxious on the part of the state Government. The Government is raping the institutions' of democracy in the state.
Trinamool leaders of Durgapur have however refuted the charges. Sunil Chattopadhay, Durgapur Block 3 secretary of Trinamool Congress disapproving the charges said, "CPM leaders are already aware of the Panchayat vote results and are therefore resorting to this kind of complaint, which are nothing but face saving measures."
Likes
(

0

)
Dislikes
(

0

)