After the Raniganj office of Rose Valley, another chit fund major in the state, started giving cheques to investors from 23rd April, thousands of depositors gathered in front of the office in the posh City Centre area in Durgapur town yesterday demanding immediate refund of their deposits.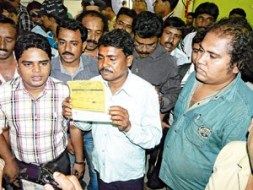 Not less than 2000 depositors of Rose Valley Finance who gathered outside the company's office at Durgapur's City Centre tried to enter the office. Officials of had to sought police assistance and a contingent of policemen was deployed immediately.
The company has two offices in Durgapur and another in Raniganj which collectively used to generate Rs 2.40 crore deposits every month.
Mr Abhijit Majumdar, manager of Rose Valley's Durgapur branch, said: "After the Saradha meltdown, depositors are demanding immediate refund of their deposits. However, this is not possible since refunds will require a large sum of money which we cannot provide immediately. This has created confusion."
The authorities, in presence of policemen, managed to refund Rs 3 lakh against a demand of Rs 5 crore, which the manager said was possible through their existing buyback system.
But situation turned tensed after the authorities, informed that they would deduct 25 per cent against one-year-old policy and 10 per cent against four-year policies or more.
Many depositors refused to accept the cheques because of this today. Private company employee Nilav Mandal said he had deposited Rs 1 lakh in 2010 in a hotel scheme that had promised to double the amount in five years. "But I got back Rs 81,000 today. The company has deducted almost 20 per cent of the principal," he said.
Branch manager Shiladitya Singh said: "We had to deduct a small portion from the principal amount as we had paid commission to agents. We also have some official expenses. We have invested the money elsewhere and cannot withdraw it in such a short span of time."
Likes
(

0

)
Dislikes
(

0

)