In a major accident in SAIL's Durgapur Steel Plant (DSP) today (18 November), one contractual worker has died while two others have been injured seriously. The incident occurred in the Coke Oven battery numbered 6 at about 7 am today.
The person died has been identified as Sk. Imamuddin (29), a new worker who hardly has any experience of working in accident prone areas like coke oven battery. Md Masood Alam, another contract worker has been critically injured in the lower pelvic region and has been hospitalized. Sk Nurul Islam who has been injured in an attempt to save the other two got injury in his hand and has been left after preliminary nursing. All the above three were working for K K Engineering, a contract firm engaged in cleaning job in Coke Oven battery of DSP.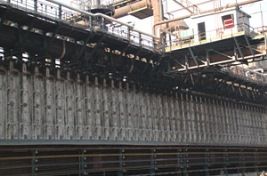 New and inexperienced contract workers doing cleaning job in the "Guide Car" track of the Battery number 6 was hit by the car. The workers got virtually crushed between the Guide Car number 17 and Quenching Car number 19.
Sources said that prior information of Guide Car movement was given to the contract workers working in the track by the guide car operator. But due to inexperience, the workers working in the area could not follow the intimation and the fatal accident occurred.
In this year there has already been report of 8 loss of life in DSP. Last year the figure was 11. In last week only, accident at Bhushan Steel in Orissa and Tata Steel unit in Jamsedpur has been in news headlines.
Like all other units of the Maharatna PSU, Steel Authority of India Limited (SAIL), DSP also engages a large number of contractual workers who are directly involved in daily production process of the plant. After Trinamool Congress came into power in 2011, most of the contract workers who had been working in the plant for more than 20 years lost their jobs as they mostly were members of United Contractor Workers Union (UCWU), a Left Trade Union controlled and affiliated under CITU.
Once Trinamool Congress won both the assembly seats of Durgapur and formed the board at Durgapur Municipal Corporation (DMC), its labour wing INTTUC initiated pressure tactics and virtually threatened contractors to engage new people who are supporters of Trinamool Congress. They even forced the management of DSP not to renew the gate passes of the old contract workers who were experienced and served the plant for decades.
Management of DSP was also reluctant to take any step to resolve the issue. Thousands of new workers who made their entry in place of the older ones are inexperienced and hardly have any knowledge of working in accident prone areas. Thus lives of thousands have been exposed to conditions where fatal accident can occur at any point of time.
Not only are the lives of these inexperienced contract workers exposed to mishaps, the regular employees of DSP who are working in the same area are also exposed to unsafe condition. Minutest of error or negligence can lead to accidents that can take lives of many. And when inexperienced workforces are indiscriminately absorbed in the daily production process, chances of accident increases manifold.
Voices of concern has already started rising among both regular and contract workers of DSP. A committee has been constituted by the DSP management to investigate into the matter.
Likes
(

0

)
Dislikes
(

0

)