Death of a schoolgirl in Asansol yesterday sparked off widespread protest and road blockade by students and residents of the industrial town.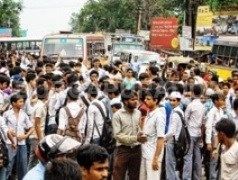 A 16-year-old girl died in Asansol yesterday almost an hour after she complained of giddiness during assembly at school. Her parent accuses the institute of delay in taking her to the hospital. The devastated father of the girl said her daughter's life could have been saved, had the school authority responded immediately.
Teachers at St. Mary Goretti School of Asansol said class X student Sophia Khatun was standing in line at the prayer meeting when she complained that her head was reeling. She was immediately taken to the infirmary where she vomited and lost consciousness, the teacher added.
"We immediately informed her parents," a teacher said.
The girl was taken to Asansol Sub Divisional Hospital 2 Km away, by her father and some teachers. The girl died at the hospital at 9.15 am.
Doctors in the Asansol Hospital who attended the girl said she could have died of heart attack, adding that a post-mortem report was awaited. Dr. Nikhil Chandra Das, the super of Asansol Sub Divisional Hospital said that acute level of poisoning often leads to this kind of death.
The death sparked road blockades by students of the school and guardians. Students of several other schools of Asansol also joined the protest march that reached Bhagat Singh More at around 12 noon. This led to the blockade of G.T. Road.
Father of the victim, Md. Fariuddin lodged a written complaint in Asansol South police station against the school authority of medical negligence. The school principal and management committee however refuted the allegations of delay in treatment.
Likes
(

0

)
Dislikes
(

0

)