Axes Group of Durgapur has courted more controversy by using the logo Steel Authority Limited (SAIL) in their company's board. Use of the logo of a Maharatna PSU, Like SAIL by a company against whom several charges of cheating and fraudulent activities looms large, has created a sense of disbelief among the residents of the steel township.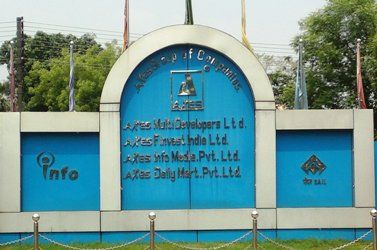 Axes Group's media channel, "Info" runs from a redesigned and renovated Durgapur Steel Plant's quarter in Akbar Road of Durgapur. The signboard standing tall in front of the media house of Axes group, "Info", contains the logo of SAIL.
Whether the Axes Group has entered into any kind of joint venture or has formed any alliance with SAIL is not known. It's a common practice that whenever SAIL has entered into any kind of joint venture with any other company, it has been widely reported in media houses. But SAIL entering into any joint venture with Axes Group has never been reported.
It may be recalled that following a court complain by Andal resident Ajit Das, ACJM of Durgapur Court has directed the police to investigating charges of cheating and fraudulent activities against Axes Group. In last week, police has raided several offices of the Axes Group within the city of Durgapur. Even all the three directors of the company are absconding.
Axes Group has several group companies that deals with real estate, land development, media, monthly deposit mobilizing schemes, resort and hotel business. Even the company's identity board in front of the "Info Channel" also speaks of Axes Group's forays into several businesses.
Whether the use of the SAIL logo by Axes Group is under any common understanding or alliance or joint venture is to be seen. But two things are for certain; firstly, using SAIL logo has certainly helped Axes Group in spreading its business wings, because SAIL being a Maharatna Public Sector Undertaking symbolizes dependability and authenticity. Secondly, the adherence of SAIL logo with a company against whom charges of cheating looms large has certainly put the reputation of SAIL at stake.
All those who are associated with SAIL in some way or other are deeply concerned with this act coming into light. Several relevant questions, like why and how a private company had been given a DSP quarter to run a business house has also been raised by the employees of Durgapur Steel Plant.
Likes
(

0

)
Dislikes
(

0

)