In an unprecedented event, the CEO of Durgapur Steel Plant (DSP), an integrated steel plant under Steel Authority of India Limited (SAIL) declined to take memorandum from the representatives of workers union. Not only that, even the CISF prohibited workers of Durgapur Steel Plant who took part in the demonstration programme from entering into the administrative building of DSP, better known as "Ispat Bhawan", within which is the CEO's office.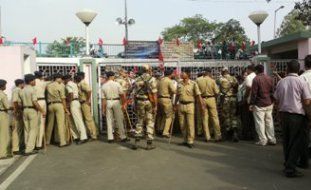 Steel Worker's Federation of India (SWFI), an organization for the steel workers of India as a part of its nationwide demonstration programme with six demands was supposed to submit a memorandum and place the charter of demand to the CEO of DSP today. This was a pre-planned programme and head of every unit of SAIL and RINL were informed well in advance.
In fact SWFI took this programme of submitting a memorandum to the unit head of every steel plant and mines of the country. The six main demand included in the memorandum includes, immediate settlement of wage negotiation through NJCS, percentage based fringe benefits, open-ended wage slab, immediately stopping iron ore export, putting a hold on disinvestment of SAIL and RINL and settlement of contract worker's wages through NJCS.


When demonstrators tried to enter the administrative building premises of DSP, CISF personnel closed the gate and tried to prevent the 500 odd demonstrators from entering. This angered the demonstrators and they forcefully entered the Ispat Bhawan premises. However, the demonstrators remained peaceful and sat on the road that leads to the CEO's office, within the Ispat Bhawan of DSP.
Six office bearers of SWFI then went to meet the CEO for submitting the memorandum. But CEO's office reported that the CEO is not in his office. Even other senior executives present in the CEO's office didn't showed any interest to take the memorandum in the absence of the CEO.
This has been a first-of-its kind incident in the history of DSP and probably in the entire SAIL as well. The SWFI leadership is seeing this as a direct infringement in worker's right for peaceful demand.
SWFI leaders from DSP like Lalit Mishra and Biswarup Banerjee has voiced concern over this kind of steps from the management of a PSU like SAIL. This is being seen by both the leaders as a move to curb democratic rights of the worker's for peaceful demonstration and fight for their demands.
Likes
(

0

)
Dislikes
(

0

)