Durga Puja, the greatest festival of the Bengalese is just a week away and the people of Durgapur are abuzz with preparation of this festival. The four-day long festival will start from 3rd October and is all set to be celebrated in a bigger way than ever before. The last minute buying spree has peaked up at the malls and the conventional shops of the Bazaars as well.
This fast developing industrial town of Eastern India is also growing in population at a very fast pace. The present population is over five Lakhs and is all set to grow at a much faster rate in coming days. This fact has seen the developments of a number of shopping malls in Durgapur in the last few years. The coming of the big Indian multinational and international brands like KFC, Ford, Crossword, Nike, Adidas, Levis, Lee, Hoffmen, Pantaloons, Shopper's Stop, etc. in Durgapur and opening showrooms here in recent years speaks highly of Durgapur's increasing brand value. The euphoric buying spree ahead of Durga puja is seeing huge crowd in all these showrooms.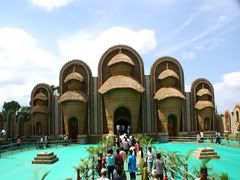 Last minute preparation at some of the big puja's of Durgapur is on in full swing. Like last ten years, Marconi Dakshin Palli puja at the heart of the Steel Town of Durgapur is all set to rope in with big surprise. This coveted puja is the pride of Durgapur and is considered to be one of the biggest puja's of not only Durgapur but Bengal as well. The Durga puja at Fuljhor is another most attractive and well known puja's of Durgapur. They are also gearing up to surprise everyone. Durga puja at Mamra Bazaar, Club Santosh, Sector 2C, Muchipara, Durgapur TN, Cement Park, Palasdiha, Bharati More, Nabaroon, Agrani, Edisson, David More and a few others will be other one which will attract large crowds and will be the centre of attraction.
Likes
(

4

)
Dislikes
(

1

)