The Durgapur assistant commissioner of police yesterday called nine CPM panchayat candidates of Durgapur to his office and spoke to them about their complaint that the officer-in-charge of New Township police station was acting in a partisan manner.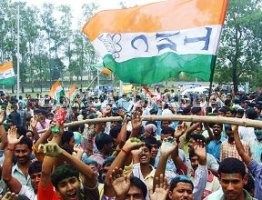 The CPM candidates, who returned to their homes after being allegedly hounded out by Trinamool activists, had lodged complaints with state election commissioner Mira Pande and the state human rights commission of July 7.
The leaders had demanded the removal of OC Dinesh Mandal for allegedly working at the behest of Trinamool activists who were creating terror in the area.
In my article in Durgapuradda on July 4, (Inaction finger on Durgapur police – http://durgapuradda.com/durgapur-news-breaking-latest-updated/inaction-finger-at-durgapur-police.html) it had been reported that the OC had mentioned in his report to the head of the Asansol-Durgapur police commissionerate that no action could be taken on the CPM's FIR because of the absence of specific names. The CPM had, however, mentioned three names, including that of Trinamool panchayat samiti candidate, Swadhin Ghosh, in the FIR.
In the police complaint, the CPM had accused Trinamool activists led by Ghosh of ransacking the houses of CPM's candidate for Jemua gram panchayat, Moni Bhushan Sutradhar after he filed his nomination.
Two of the nine CPM candidates, including Sutradhar, broke down in tear in ACP (east) S. Selva Murugan's chamber yesterday during the meeting. The two told Murugan with folded hands that it was better to commit suicide in his office instead of staying in their villages, where they were being allegedly terrorized by Trinamool activists, because OC Mandal's "failure to take action".
"I had to flee my home after filing the nomination on May 31 as armed Trinamool workers led by Swadhin Ghsoh attacked my house and threatened my family members. They told me to withdraw my nomination. I immediately contacted the local OC (Mandal) but the police arrived after an hour. By that time, the Trinamool workers had left. I fled to my married daughter's home the next morning. Trinamool workers tried to kidnap me from the factory where I am a contract worker" said Sutradhar.
"They took me to their party office and threatened me of killing if I do not withdraw my nomination. I did not get any police assistance. I told the ACP it is better to commit suicide instead of going back to my village" said Sutradhar while speaking to the media.
A CPM candidate for Durgapur-Faridpur panchayat samiti, Dharmapada Ghosh, said Trinamool leader Swadhin Ghsoh, against whom he is contesting, has threatened him after he participated in a campaign rally on Wednesday at Kaligunj.
Murugan assured the nine CPM leaders of taking appropriate action. He promised to be present personally in the area with central forces on the day of election
Likes
(

0

)
Dislikes
(

0

)