Durgapur boy Abhishek Ghorui may not be a name which many in even his hometown Durgapur has heard of, but his achievement is something which will stun everyone. His tale of struggle and success from his modest home in Durgapur to contributing in several Hollywood movies' visual effect can well be an inspiration for many.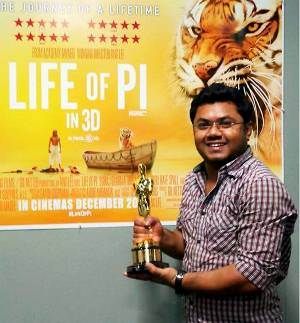 From his little home in Durgapur, to distributing pamphlets in Mumbai to earn money and finally, being part of the visual effects team that bagged the Oscar for 'Life of Pi', Abhishek Ghorui's story is in no way less fascinating than Bollwood movies. Currently based in Bangalore, the boy from Durgapur has his fingerprint on blockbuster movies like 'Pirates of the Caribbean: On Stranger Tides', the Brad Pitt-starrer 'World War Z', 'Jack the Giant Slayer', Ridley Scott's 'Prometheus', 'Transformers: Dark of the Moon' and many more.
Abhishek also has contribution as visual effects artist for two of the biggest movies of recent times – the 007 flick 'Skyfall' and 'Man of Steel'.
"I never imagined I would hold the Oscar one day, But I started dreaming about it when two movies I worked for – 'Prometheus' and 'Skyfall' – were nominated. Though they could not bag the top award but I knew that the day is not far away when I will achieve it. When 'Life of Pi' nailed it, I felt like I was on top of the world. And it was such an amazing feeling when I touched the Oscar. It It was difficult to sleep as that golden moment kept flashing on my mind in repeat mode," grins the young achiever who learnt visual effects at a Park Street institute in Kolkata.
Abhishek was born and brought up in Durgapur. He did his schooling from Pranavananda Vidyamandir of Durgapur's Steel Township and his plus II from Bidhan Chandra Institution in 2004. He always had a keen interest in painting and creative work, and wanted to become an artist.
Let's hear the next struggling phase of Abhisek's life in his own words: "After completing Plus II, when everybody was aspiring to become a doctor or engineer, I also followed the mainstream and took admission in a computer science course in a college under Calcutta University. But I felt disinterested in computer programming. So, I decided to explore the field of my choice. After a lot of research, I came to know about some institutes which offered animation and visual effects courses. Although my parents had very little knowledge about these fields, they gave me great mental and financial support. However, after completing the course, I was in for total disappointment. I got no job offer as there was not a single animation company in Kolkata. But I was determined. I packed my bags and boarded the train to Mumbai to chase my dream. With little money and no contacts there, I struggled until an old friend offered me shelter in his room."
"I started looking for jobs but there were no openings for a greenhorn artist in any studio. The next four-five months were very tough. I even distributed pamphlets in front of colleges to earn money. Suddenly, I got a call from a renowned Mumbai studio. My joy knew no bounds when I came to know that I was the only one to be selected, from hundreds. That was the beginning of my career. I tasted success after my name featured in the credit list of 'Tron: Legacy' in 2010," Abhishek narrates. From then on, there's been no looking back.
Now let's try to understand about the nature and kind of job that Abhisek does. A visual effects artist integrates live action (which is being shot by camera) with computer graphics object or environment to make it realistic.
Abhishek explains, "As a visual effects artist, my job is to prepare a particular scene where a computer generated (CG) object (character, explosions, environment etc) can be integrated into, to create a realistic environment. For example, consider a scene where an actor is jumping from a building with the help of wires. The director wants to add a CG creature behind the character. My task is to clean those wires to pixel-perfect and prepare the scene so that the CG creature can be placed without losing even a half-pixel of the original information. I've done a good number of scenes and shots in 'Life of Pi', 'Pirates of the Caribbean: On Stranger Tides' and 'Transformers: Dark of the Moon', among others."
Hope this story of Abhisekh will enthuse many more from small towns like Durgapur to believe in themselves and strive to achieve success in life.
Likes
(

3

)
Dislikes
(

0

)