A Class X student of Durgapur has made the city proud by winning the third prize in the Class X individual category of the Space Settlement Design Contest, 2014, which was organized by NASA (National Aeronautics and Space Administration) online.
Soumik Ghosh Moulik – a class X student of SKS Public School in Ranigunj near Durgapur will fly to Los Angeles next month to participate in the 33rd International Space Development Conference to be held in Los Angeles from May 14 to 18.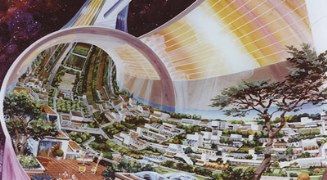 The first prize in the same category has been bagged by an Indian boy D. Swagat of St.Vincent's Convent School, of Balasore in Odisha.
The NASA Space Settlement Contest has been created by NASA to research space colonies and orbital settlements, through innovative space settlements designs developed by students.
16 year old Soumik who wrote his Class X CBSE Board Exam this year submitted a 42 page thesis in January 2014 on how he proposes to build a colony for human beings around Jupiter, the largest planet of the Solar System.
Jubilant Soumik said: "My thesis primarily deals with a project that will make life possible in zero gravity around Jupiter. The name of my project is 'Star Gazers'. It's about a colony in space that will have air, water, food, recreation and radiation protection facilities. This is possible through application of present and future science technologies."
Asked, how he prepared the thesis in between learning lessons for the class X CBSE Board exams, Soumik the son of a civil contractor said he used to study in the day and write his thesis at night.
"I was under extreme pressure of preparing for my board exams but I was completely determined to write the thesis. It took me 22 days to complete the thesis on space colony. My mother stayed awake along with me as long as I wrote the thesis and supported me a lot," said the 16 year old boy.
Soumik's father Pratik Ghosh Moulik meanwhile is busy arranging money for his son's trip to Los Angeles.
Scientists at NASA, impressed by his plans have sent him the coveted invitation not only to receive his award but also to explain his thesis.
Durgapur with an atmosphere conducive to education has also in the past seen Durgapur boys winning award in NASA contests.
Likes
(

2

)
Dislikes
(

2

)