The industrial town of Durgapur along with the rest of the country celebrated the birth centenary of legendary Marxist leader, Jyoti Basu with due respect. Residents of Durgapur paid glowing tribute to India's iconic Communist leader Jyoti Basu on the centenary of his birth.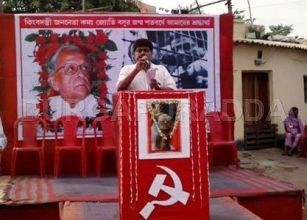 The longest serving Chief Minister of any Indian state was remembered with floral tributes, meetings and procession at various parts of Durgapur. Not only members and supporters of CPM and left parties, but even common people were seen in the meeting.
Both, Durgapur Zonal 1 and Zonal 2 of CPM organized functions at different places to kick start the year long centenary celebration of Com. Jyoti Basu who is often looked upon as the only Indian communist leader of International repute.
CITU, the labour wing of CPM also oragnized several functions to pay tribute to Jyoti Basu, who has been the joint secretary of CITU when it was formed.
The entire state also paid tribute to Com Jyoti Basu who is looked upon as the leader of the masses. The main function was at the state assembly, where Basu was a member for 49 years. His portrait was garlanded among others by former Lok Sabha speaker Somnath Chatterjee, assembly speaker Biman Banerjee, his predecessor H.A. Halim, leader of the opposition Surjya Kanta Mishra, and deputy leader of the House Partha Chatterjee and members of the Assembly.
Speaker of the state Assembly Biman Bandopadhyay said that Basu was a national leader with a great personality.
"Basu actually elevated the Communist Party of India-Marxist (CPI-M) to the national level, for which he was asked to occupy the chair of prime minister in 1996, but he had refused for the sake of maintaining party discipline," Bandopadyay said.
The former Lok Sabha speaker and a long-time colleague of late Basu, Somnath Chatterjee, said that he used to speak in the language of the common people.
"Today his absence is felt very much. Basu used to say that politics is the best method for serving people and our Assembly and Parliament are meant for the people. let us take the pledge to serve people. Basu always used to raise people's problems in the House," Chatterjee said.
The Communist Party of India-Marxist has lined up year-long programmes throughout the state, highlighting his life and philosophy to mark the centenary celebrations.
Likes
(

1

)
Dislikes
(

0

)