Durgapur is on high election spree. The people of Durgapur will go into poll tomorrow, to elect their representatives for the fourth Durgapur Municipal Corporation (DMC). Campaign for the election of the civic body ended yesterday at 3 PM. Literally Durgapur is under high election fever, even in this scorching summer heat.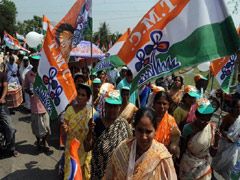 The kind of enthusiasm and high voltage campaign which the people of Durgapur witnessed from all the political parties in fray is simply unprecedented. Whether it is the Left Front or the Trinamool Congress or Congress or BJP, heavyweight political leaders visited Durgapur to campaign for their respective candidates. Even hot summer days with temperature rising to a high of above 45 degree centigrade accompanied by high humidity and occasional hot wind could not in any way affect the high voltage campaign for the civic body poll. Prominent Left leaders like Suryakanta Mishra, Nirupam Sen, TMC leaders like Mukul Roy, Suvendu Adhikary and Congress leaders like Pradip Bhattacharya, Dipa Das Munshi campaigned widely for their respective candidates.
3,67,040 voters will elect their representatives for the 43 wards of the DMC tomorrow, 3rd June. Counting of votes and declaration of results will be on 5th June. Left Front and TMC have given their candidates in all the 43 wards, while Congress is contesting in 35 wards and BJP is contesting in 30 wards. A total of 167 candidates are in fray including 13 independent candidates.
The main contest is between Left Front, TMC and Congress. In all the last 3 elections of the DMC left front candidates were outright winners. But the situation has changed. TMC, after winning both the assembly seats of Durgapur in last years' election is quite hopeful in taking control of the DMC, this year. The only concern for TMC is the fact that they fought the last years' assembly poll forming an alliance with Congress, but in this civic body election they have failed to form any pre-poll alliance with Congress. This may prove to be the major deterrent factor in their win. Moreover, the changing face of Durgapur from a mere industrial town to a educational hub with all the premium amenities of modern living is often seen by the people of Durgapur as the achievements of DMC under the left rule.
Likes
(

0

)
Dislikes
(

0

)