The very subject of the proposed Film City at Durgapur has been revived at the recently held Durgapur Film Festival in the industrial town of Durgapur. Eminent Tollywood actor Prosenjit Chatterjee had planned a Film City in Durgapur suburbs.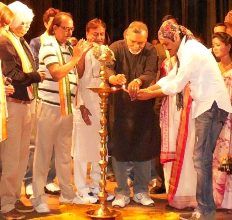 The weeklong Durgapur Film Festival which began on August 31 to mark Prasenjit Chatterjee's 30 years of film career was organized by Durgapur Municipal Corporation along with Zee Bangla and Bengali Film Lovers Society.
Actor Prasenjit Chatterjee after inaugurating the film festival said, "The idea of building up a film city in Durgapur has been dropped due to dearth of adequate infrastructure in this sub-region."
Mr Prasenjit Chatterjee told media persons: "The dream to set up a film city in Durgapur has practically died as the city still lacks adequate infrastructure and I have dropped the idea." A Film City, he said: "Would require a robust hospitality industry, quality power, aviation facility and uninterrupted supply of trained human resources."
Durgapur Mayor, Apurba Mukherjee speaking on the issue said, "The city would definitely extend cooperation to Film City projects as this would help attract investors and create jobs."
"An Italian film crew headed by producer, director, Mr Rafael Leonatti and Markco Leopardo, in 2007 however had camped in the city for a week to shoot 'India Today' – a film premiered in Rome in 2009. They shot extensively in the slum areas in Muchipara. They however did not complain about the dearth of logistics here," said the mayor.
The film festival ended on September 5 and seven films of actor Prasenjit Chatterjee was screened during these six days.
Along with actor Prasenjit Chatterjee many prominent names from Bengal Film industry were also present during this occasion. Among them Haranath Chakraborty, Chinmoy Ray, Mrinal Mukhopadhay, Sujit Guha, Debdut Ghosh, Rita Dutta Chakraborty were to name a few.
Mrs Anindita Mukherjee, wife of Durgapur Mayor, Apurba Mukherjee, the chairperson of the Durgapur Film Festival said: "This city accommodates a Film Society and with the beginning of the annual film festival, Durgapur, I suppose, would explore new avenues for future film industry prospects. The city has a large pool of IT professionals required for the film industry."
The work on another Film City, however, is underway on a verdant patch beside the Ajoy River in Kanksa, just 12 Km from Durgapur..
The proposed Durgapur Film City, as stated by its mentors: "Is set to commence operations in 2018. Our German collaborator, Exim GmbH, for the project has given us the go ahead." Mr Ujjawal Mukherjee, director, Exim GmbH's West Bengal chapter told: "The proposed film city would require at least 100 acres of land and we have managed to procure barely 25 acres."
He said: "We were told by the former Zilla Parishad Board that the local panchayat and land department together would help procuring us the vested land in Kanksa's Junglemahal area for the purpose but we were later told that such large tracts were not available there." He added: "Now we are buying private land at at commercial rates."
A film city in Durgapur will definitely boost the future growth prospect of the city. But is to be seen, whether the administration will be able to come out of the same land acquisition hurdle.
Likes
(

0

)
Dislikes
(

0

)