Honorable Chief Minister of west Bengal visited Durgapur on 13th April, Friday to inaugurate the much talked Durgapur Haat in Durgapur. The Durgapur Haat has been set up in Palasdiha near City Centre close to NH2 with an investment of around 4.4 crore. This haat will definitely provide a much needed platform for direct marketing facilities to local artisans and weavers eliminating middle agencies. The micro, small & medium scale enterprises & textiles department (MSMSETD) of the state has set up the Haat with Central aide in the lines of the already-functioning Delhi Haat.
The Urban Haat scheme provides direct marketing facilities to the artisans and weavers where the craftsmen will be able to sell their products almost throughout the year. There is a food park, an open theatre and dwelling places for the craftsmen , where they may stay temporarily against a minimal monthly charge.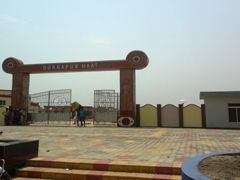 Urban Haat is an ever-permanent fair for Crafts, Food and Cultural Activities. The craftsmen from various areas and the cultural happenings provide a panoramic view of richness and diversity of handicrafts and artifacts.
With an aim to promote tourism, culture and craft creation all under one roof, the urban-haat concept is actually a centrally sponsored scheme that was first conceived in the union budget of 2008-09. The former left front government took lead from this idea and decided to set up four Urban Haat at Durgapur, Santiniketan, Kolkata and Siliguri. Small scale and cottage industry minster of the former left front government Mr. Manabendra Mukhopadhay laid the foundation stone of the first Urban Haat project in Durgapur in 2009. Mayor of Durgapur, Mr. Rathin Roy took personal interest and not only identified land for the project near Palasdiha but also took initiative to get the land sanctioned from Assansol Durgapur Development Authority (ADDA). But to the surprise of many Mr. Rathin Roy was not invited to the opening ceremony of this Durgapur Haat.
Two Central ministries ~ cottage industry and handloom development had disbursed Rs 1.05 crore each for the Durgapur Haat. The state spent Rs 2.15 crore besides allocation of 5 acres of land by the Asansol Durgapur Development Authority (ADDA).
Likes
(

2

)
Dislikes
(

0

)