At a press conference in Durgapur, local MP Mr. Saidul Haque announced the sanctioning of an amount of ₹ 1 crore 38 lakhs and 50 thousand for the all-round development of Durgapur under Member of Parliament Local Area Development Scheme (MPLADS). In the press conference which took place at the "Sahid Bimal Dasgupta Bhavan" on November 9 in City Centre of Durgapur, other prominent CPM leaders present included former Durgapur Mayor Com. Rathin Roy and former Durgapur MLA, Com. Biprendu Chakraborty.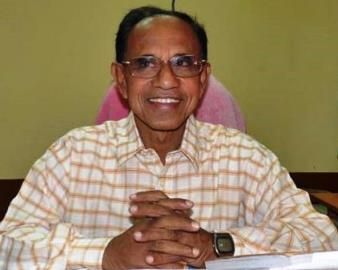 Durgapur MP from CPM, Com. Saidul Haque said that CPM hates cheap politics when development is concerned. The MP further added that the sanctioned amount will be spent through the Trinamool Congress run Durgapur Municipal Corporation (DMC).
The Left leaders present at the press meet mentioned that when the cyclonic storm "Aila" struck Bengal in 2009, the main opposition party Trinamool Congress pressurized central government not to provide aid for the Aila victims. The Left leaders pointed out that for them people and their development comes first.
Under the MPLAD Scheme launched in 1993-94, each MP is currently given an amount of ₹ 5 crore per year to take up developmental work in his or her constituency.
Durgapur MP Com. Saidul Haque gave a detailed outline on how the fund of ₹ 1.38 crore will be used for various developmental work in Durgapur.
There will be seven new bus stands at various places in Durgapur. A sum of ₹ 5 lakhs each have been allocated for the following bus stands – at Amaravati Colony More, at Fuljhore More, at HUDCO More , at Bank Colony More, at Mission Hospital and 2 bus stands near the administrative building of DPL.
₹ 50 lakhs has been sanctioned for the construction of concrete road from Bhagat Singh More to Maulana Azad. This very important road connects Bidhannagar locality of Durgapur with the Steel Township and is in very bad shape. ₹ 2 lakhs has been allocated for construction of road at Bijupara and ₹ 3 lakhs for a new road in Raghunathpur.
A sum of ₹ 15.5 lakh has been given to the Durgapur Blind Relief Society for procuring FECO and other operational instruments. ₹ 20 lakhs will be given to the NGO HOPE who works for physically and mentally handicapped children.
For construction of school building of "Sikhya Sadan" in Dhandabag locality, ₹ 5 lakh has been sanctioned. Durgapur Society of Prevention Thalassemia and AIDS have been provided an aid of ₹ 5 lakhs for building construction.
The Bar Association library of Durgapur sub-division court has been sanctioned a sum of ₹ 50 thousands for purchasing of books.
The MP said that the progress of the works being implemented under the scheme will be monitored on a regular basis.
Likes
(

0

)
Dislikes
(

0

)