The industrial town of Durgapur is all geared up for the fourth municipality corporation election slated to be held on 3rd of June this year. Along with Durgapur, five other civic bodies of west Bengal, – Dhupguri, Haldia, Panskura, Nalhati and the Coopers' Camp notified area will also go for polling on the same date to elect its representatives for the civic body. Counting will be held on 5th June. Today was the last date of nomination filing.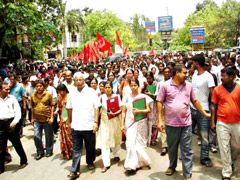 In Durgapur Municipality Corporation (DMC) there are 43 wards. The Left Front has been at the helm in the Durgapur Municipality Corporation since inception in 1997 under the able leadership of Mr. Rathin Roy, who has been the Mayor of Durgapur in all the last three terms. As Mr. Roy is not contesting this year, Mr. Biprendu Chakrobarty contesting from ward number 21 is the left front candidate for the Mayor post of DMC. Out of the 43 wards, CPI(M) is contesting in 38 wards, while CPI is contesting in 3 wards and both Forward Block and RSP will contest in 1 ward each.
Once considered to be a strong Marxist bastion, the people of Durgapur for the first time voted against left in the last year's assembly election. In both the assembly seats of Durgapur, Trianamul Congress candidates defeated CPI(M) candidates by huge margin. Buoyed by this unexpected success, Trinamul Congress is expecting to capture control of Durgapur Municipality Corporation for the first time. They are projecting the seating MLA of Durgapur Paschim (also known as Durgapur II) Mr. Apurba Mukherjee as their choice for the post Mayor of Durgapur. TMC has formed an alliance at the local level with Congress and are expected to fight jointly against the Left Front in DMC election on June 3rd.
Likes
(

0

)
Dislikes
(

0

)