Absence of any official programme by Durgapur Municipality Corporation (DMC) to observe the 114th birth anniversary of Bengal's rebel poet Kazi Nazrul Islam in Durgapur, barely 40 Km from the birth place of the poet has surprised many. Kazi Nazrul Islam was born in Churulia village near Asansol in 1899.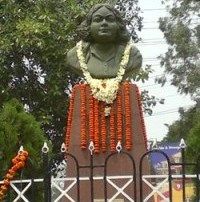 While the state government held official programmes yesterday to observe the birthday of the poet his statue erected by the civic body was not even offered a garland, although a programme of the youth wing of the ruling Trinamool Congress was held in close proximity.
What was more disturbing and surprising was the fact that the poet's statue was surrounded by the flags and banners of the Trinamool youth wing.
The Durgapur Municipal Corporation, in 1999 had installed a half-bust black stone-carved statue of Kazi Nazrul at the busy City centre crossing, near Durgapur Cinema Hall and Srijoni Auditorium. Each year, the civic body used to place garlands after cleaning and washing the rotary and the statue on the poet's birth and death anniversaries. However, this year no such steps were taken on the part of TMC led Durgapur Municipality Corporation.
The state industry minister, Mr Partha Chatterjee, attended the political programme near the statue, as did hundreds of Yuva youths including its state chairman, Mr Abhishek Banerjee, but no-one, as far as was apparent, worried about the neglect shown to the poet.
Asked why the statue was left neglected, the Trinamool MLA, Mr Apurba Mukherjee, who is also the Mayor of Durgapur Municipal Corporation said: "The cultural affairs department was supposed to look after the matter as we were all busy attending our party programme yesterday."
But fortunately, the local residents of City Centre area of Durgapur, spearheaded by a group of youths took the initiative to place flower garlands on the statue in the evening.
Likes
(

0

)
Dislikes
(

0

)