Within 5 days of the robbery at the Durgapur Muthoot Finance office, Police have cracked the 13 crore robbery case on yesterday. Out of 36 kg gold and 10 Lakh rupees of cash that were looted from the Muthoot branch in Durgapur's Benachity on 1st February, police have recovered 3.5 Kg of gold and Rs 4.04 lakh of cash from the in-laws' house of a known inter-state criminal, Dasarath Mahato, in the wee hours on Tuesday.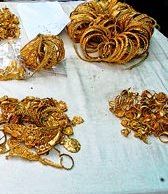 Sources revealed that the detectives cracked the case by drawing sketches of the criminals and showing them to their sources. Acting on a tip off from Dhanbad police a team of sleuths from the Asansol Durgapur police commissionerate, led by ADCP (East) Sunil Yadav, along with Barwadda Police of Dhanbad, raided the in-laws' house of Dasarath Mahato, at Sadhobad village near Dhanbad. However, Dasarath Mahato was not found at home. Police arrested his wife Guria Devi, 30, brother-in-law Ajit Kumar Mahto, 30, and mother-in-law Tunia Devi, 57. Raids have also been conducted in the houses of Dasarath's associates Babloo Mudi, Surinder and Babu, but all of them were absconding.
The women reportedly led the police to the place in their house where the ornaments were stashed. Dhanbad DSP R.N. Sharma said the booty was found in a pitcher kept under the soil in front of the house. "We dug up the soft earth and retrieved the jewellery," he said. A country-made pistol, two live cartridges and Rs 4.04 lakh in cash were also found in the house. A TV set, a refrigerator, two LCD sets, six ceiling fans, two mixer-grinders and two music systems were also seized from the arrested persons.
The police said Muthoot Finance's tagmark was on the recovered jewellery. "The seized currency notes had the signatures of employees at the Muthoot branch. The signatures were identified by Muthoot officials who came with the police team from Durgapur that carried out the operation with us," said DSP Sharma.
R K Dhan, the SP of Dhanbad, told reporters that Mahato was the "kingpin" of the gang that carried out the raid on the finance office and that the entire gang has around seven-eight members. "We expect the entire gang to be rounded up soon" added the SP. "The remaining gold and cash may or may not be in Dhanbad. The others involved in the robbery may or may not be from Dhanbad. We can't say anything more for the sake of investigations," he added.
Dhanbad police said Dasarath had been arrested two years ago in Jharkhand for the theft of two motorcycles and is out on bail.
Likes
(

0

)
Dislikes
(

0

)