Durgapur police on Monday claimed to have foiled an attempt to kidnap an industrialist and arrested three persons involved in the abduction bid. Random tracking of call helped police foil the likely kidnapping of the Durgapur industrialist 36 hours after he had received threat calls demanding Rs 10 crore as ransom.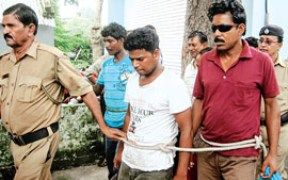 Police said, on 23 August, industrialist Ramdhani Jaiswal residing at Doctor's Colony in City Centre of Durgapur, received a threat call where he was told to shell out a hefty sum or face abduction.
The first call was made to the number of Akhilesh Konar – domestic help of the industrialist in which the caller demanded R 10 crore to avert kidnapping of Mr Jaiswal.
The next day unknown persons dropped a letter addressed to Mahendra Saw – Mr Jaiswal's Chartered Accountant bearing a similar threat.
Mr Jaiswal who owns two iron units in Chirkunda near Dhanbad in Jharkhand and also runs a pair of TMT Bar manufacturing units in Durgapur and Maithon, brought the matter immediately to the notice of the Asansol Durgapur Police Commissionerate.
Mr Sunil Yadav, ADCP (East) said: "We took the threats seriously and started tracking the cell number of the caller. This led us to another number which surprisingly was in possession of Ramesh Bhujal – a family driver of Jaiswal."
Bhujal, according to the police was the kingpin behind the conspiracy. Originally from Lumjung, Nepal, Bhujal was serving the family for quite sometime now.
Interrogation reveals that Bhujal got hold of a pen-drive belonging to the industrialist bearing monthly business details of the Jaiswal, which, according to Mr Yadav: "Had helped him to ascertain that Mr Jaiswal was capable of forking out Rs 10 crore. This tempted him to plot kidnapping of his mentor."
Bhujal contacted two gangsters – Sheikh Israfil and Purnachandra Bauri of Haribazar in New Township PS area. The goons had collected two SIM cards using forged identity from Illambazar in Birbhum and Gopalpur in Kanksa.
Bhujal used to pass on vital information to Israfil, and Purnachandra used to write the threat-letters. The police finally arrested Bhujal, Israfil and Bauri subsequently. The court ordered a 10- day remand for the trio.
Mr Jaiswal said: "I had no idea that a person who had been with us for so many years and whom we trusted could plan something so menacing."
Incidents of kidnapping, extortion, and threat involving local industrialists have alarmed traders and industrialists of the Asansol-Durgapur industrial belt. "The region has become a haven for bad elements and industrialists are being targeted by gangsters hoping to make a fast buck," said Mr Shankar Mundiya – an industrialist who was kidnapped from Jamuria in 2003.
The ADCP, Mr Yadav said: "In three recent cases we have observed that the company staff or neighbours were the chief conspirators. We have advised industrialists, traders to remain vigilant and keep identity proof of their employees."
Rising cases of kidnapping and extortion have forced many industrialists of the Asansol-Durgapur industrial belt to engage private security guards. Many have applied for gun-licenses as well.
Likes
(

0

)
Dislikes
(

0

)