Residents of Main Gate, Gammon Colony of Kada Road and Amrai area of Durgapur erupted in protest yesterday when they found that some realtors are encroaching on the Tamla Nallah to construct residential flats. The mass protest by the local residents prompted Durgapur Municipality Corporation to intervene and stoppage of work at the site.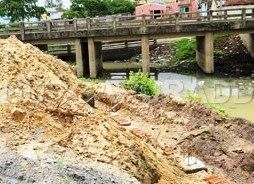 Filling up of water bodies to construct residential apartment is a major crime in metro cities. But in recent time price of real estate in Durgapur has shoot up to such a height that local promoters and developers are following the path shown by promoters of Kolkata and other metro cities by filling water bodies and convert it into assets that can fetch crores in the realty market.
Tamla, a storm water channel that receives effluents from SAIL's Durgapur Steel Plant, Coal Washery of the state-owned Durgapur Projects Limited and some local small industries is basically a waste carrying water channel that meets the Damodar River downstream of the Durgapur Barrage.
Recently residents saw some realtors laying foundation and brickworks allegedly occupying the channel area. The construction work was started near a bridge on the channel adjacent to Amrai village. This led to a mass protest by residents of wards 12 and 13 in the town comprising the Main Gate, Azad Basti, Gammon Colony, Nayeem Nagar, Amrai and Kandeswar demanding strong intervention by the local civic body.
It must be mentioned here, that the local residents had earlier led a deputation to Mr. Apurba Mukherjee, the Mayor, Durgapur Municipal Corporation on 17 June letting the Mayor know about the effort by realtors to grab land by filling portions of the Tamla Nallah. They also demanded that Durgapur Municipality Corporation must take initiatives to clean the Nallah on a regular basis.
"It is the only dependable waste water channel in the town and any blockage won't be allowed under any circumstances," said Mr. Apurba Mukherjee, Mayor, DMC today. "We came to know that permanent construction by filling up the channel area is in progress in the Main Gate and Amrai areas," he added.
Likes
(

0

)
Dislikes
(

0

)