A young sailor from the industrial town of Durgapur was among those feared dead in Wednesday's explosion of submarine INS Sindhurakshak in Mumbai.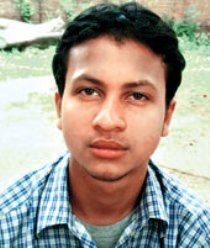 Indian Navy Submarine Sindhurakshak exploded on Wednesday (14th August) early morning at a dockyard in Mumbai with the fate of 18 personnel, including three officers, on board uncertain. Submarine Sindhurakshak commissioned on 24 December 1997 is the ninth of the ten Kilo-class submarines of the Indian Navy and underwent a mid-life upgrade in Russia recently.
Durgapur resident Malay Halder, 22, joined Navy in August 2011, leaving his study midway and was one among the 18 ill-fated Navy personnel in INS Sindhurakshak. The Sindhurakshak had 21 sailors on its night watch, but three of the men were stationed on the submarine's exterior and managed to dive for safety. Though officially he has not yet been declared "dead" by Navy but there is hardly any chance of his survival.
After passing higher-secondary exam from T.N. High School in Durgapur, Malay took admission for an electronics engineering course at Kanad Institute of Engineering and Management in Mankar near Durgapur. But after getting the job at Navy, he left his study.
Malay Halder's mother, Sujata, 42, who reached Mumbai by flight with husband Mrinal, 55, and a relative yesterday, told news agency that she had requested her elder son several times to leave the job when she came to know that it would entail staying under water.
"When I came to know that Malay had been assigned a job in a submarine, I repeatedly told him not to continue. I told him I didn't want him to remain under water. But my son did not listen. Now, I think I have lost my son," said Sujata over phone, breaking down.
Navy divers have recovered five bodies so far from the exploded submarine. The bodies found so far are unidentifiable because they were so severely burned, authorities said. They have been taken to a naval hospital for DNA identification.
Malay's father Mrinal halder is an employee of the transport department of Durgapur Projects Limited (DPL). The family lives in the company quarters at DPL Colony in Durgapur. Malay's younger son Abhishek is a first year physics honours student at Calcutta's Ashutosh College.
Malay underwent six months' training before being assigned to a submarine at the navy base in Visakhapatnam in March 2012.
"My son was shifted to the electrical department of the Sindhurakshak on August 5. I had asked my son many times to complete his studies and then take up a job," Sujata said, sobbing incessantly.
Neighbours rushed to the Halders' single-storey quarters after coming to know about the blasts from television on Wednesday.
Subhojit Mukherjee, Malay's friend and neighbour said, Malay had come home on leave for the last time on June 4. "He was here till June 29. Before leaving, he told us that he hoped to be back in December. He had planned to throw a party for us on his birthday on December 12 in a good restaurant in Durgapur," said Subhojit.
"He told us he found working in a submarine thrilling. But, at the same time, he had told us he knew about the dangers his job involved. He had said if some accident happened, he might not survive," Subhojit added.
Sisir Chatterjee, another neighbour of the Halders, said Malay was a "polite and friendly boy". "He got a job early. Many of his friends are still unemployed. But he was never arrogant. He loved his friends," said Chatterjee, an elderly gentleman.
Likes
(

0

)
Dislikes
(

0

)