A slum dweller of Durgapur overcame all odds and scored an A+ grade in Madhyamik exam this year. An unemployed father, an uneducated mother, lack of study materials and absence of proper guidance could not stop, Suman Karmakar of Durgapur, from scoring 565 in Madhyamik exam.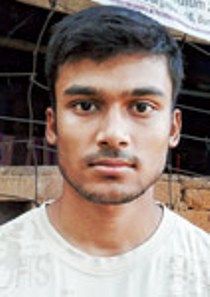 Suman, a student of Ramkrishna Pally Vivekananda Vidyapith resides in a broken mud house in the slum area adjacent to C- Zone colony of Durgapur's Steel Township. Suman's father Mritunjoy Karmakar has lost the capability of doing work after an accident five years ago and stays at home. His mother, Sujata Devi is the only earning member of the family at present. After her husband's accident, Sujata Devi started doing work of sewing and has somehow managed to feed the family.
But all this has not deterred Suman from continuing his studies and her mother has always inspired her. The circumstances under which Sujata Devi has managed to continue studies of her son and also of her daughter Sanchita, a student of class VII, deserves salute from all of us.
Apart from his love for study, Suman has been a good athlete as well. Once he won the first prize in Long Jump, in State School Athlete Meet. He is good in painting as well.
In spite of scoring such high marks, Suman is in doubt whether he will be able to continue his studies. Suman got 94 in both Physical Sciences and Math. He aspires to be an engineer in future and for that he has taken science in higher secondary.
Suman and his family is well aware of the fact that higher the class would be, more will be the cost of studying and harder it will be to continue the study. All this has kept Suman and his parent concerned about the future, in spite of such brilliant result.
However, the family is hopeful, that after knowing about the story of Suman, kind and generous people will definitely extend their helping hands.
Likes
(

2

)
Dislikes
(

0

)