May Day – synonymous with International Workers' Day has been celebrated with much importance in the industrial town of Durgapur. Remembering the struggle of the workers of United States at Chicago's Haymarket Square on May 1st 1886 to make working hours as 8 hours a day, the day bears a special significance for the entire working class of the world.
Durgapur – better known as the industrial hub of Eastern India has a very large population of industrial workers. Moreover, the worker of Durgapur has a very rich legacy of fighting for their justified demands. It is thus no wonder that May Day is celebrated with utmost importance and respect to commemorate the historic struggle of the workers throughout the world against capitalism, exploitation, and for safe working conditions and respect for the dignity of workers.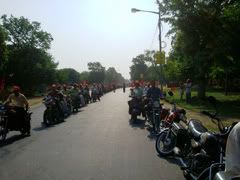 Like every year a big motorcycle rally was organized by CITU. More than 1200 CITU members participated in this huge rally that started from CITU office at Vidyasagar Avenue, B-Zone and after making rounds of the entire Steel Township, the rally ended at Ashis Market, A-Zone. A cycle rally made rounds of the A-Zone Township as well. The rally created much enthusiasm among the residents of the Steel Township, who at places gathered and waved the passing rally.
At a time when the workers of the world are once again victimized and exploited almost throughout the world, importance of May Day has increased manifold. At this juncture, unity of the workers is the need of the hour.
Likes
(

0

)
Dislikes
(

0

)