DYFI state president Abhas Roy Chowdhury during a Press conference at the CPI-M's zonal committee office in Durgapur yesterday said that DYFI will fight for the cause of the contractual workers of several factories of South Bengal who lost their jobs after Trinamool Congress came into power in 2011.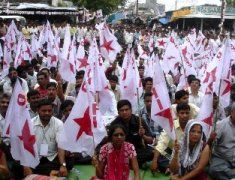 DYFI – the youth front of Communist Party of India (Marxist) is all set to fight the "unabated retrenchment of CITU members and supporters" in various factories across south Bengal districts, said Mr. Abhas Roy Chowdhury.
One may recall that on 22 August a delegation of Hindustan Steel Employees' Union Durgapur, a CITU affiliated organization and United Contractors' Workers Union of Durgapur Steel Plant (DSP), met the Governor of West Bengal M K Narayanan and handed over a memorandum saying that ever since the 2011 assembly election, the contract-workers of DSP and several other factories in and around Durgapur have come under physical attack both within the plant premises and outside. It is alleged that the perpetrators belong are the supporters of INTTUC (labour front of Trinamool Congress).
The former industry minister, Mr Nirupam Sen, will address a DYFI rally on the issue in Durgapur on 25 October where retrenched workers of various units, accompanied by DYFI cadres will assemble.
Roy Chowdhury said: "CITU members are being retrenched especially from the secondary steel and iron and steel units in four south Bengal districts of Burdwan, Birbhum, Bankura and Purulia. We are concerned."
"Discrimination over 'political colour' has ruined the fate of thousands of contractual labourers after the change in guard in the state. This is a grave situation. More than 5,000 workers have been axed in just two years. We can't sit idle as the job prospects of youths are in question," he said.
Asked whether the CITU had failed to deal with the menace, Mr Roy Chowdhury said: "The CITU is supposed to contest the cases of individual retrenchments at the proper forum but we, the youth front are concerned with the loss of job prospects of unemployed youth in the districts because of their political affiliations."
Meanwhile, district CITU president B K Chakraborty said: "The crisis has spread everywhere and protests should come from all corners. It is encouraging that the DYFI is organising this rally here."
The ITTUC, meanwhile, criticised CITU while trying to ascertain the DYFI's bid. Mr Probhat Chatterjee, district ITTUC president, said: "Our chief minister gives heed to grievances brought forward by the registered trade unions. It is surprising to learn that CITU has reserved its stance and assigned the DYFI to serve its purpose."
According to Ajit Mukherjee, president of Hindustan Steel Employees Union, there are around 8000 contract workers in the plant and many of them have been on the job for more than 15 years. Of them, around 3500 workers have now been forcibly kept away from joining their duty for quite sometime and instead they have been replaced by TMC supporters.
Though Mamata Banerjee before the assembly poll gave the call for "Badol and not Badla" (Change and not revenge), but what the contract workers of Durgapur and surroundings are facing is virtually the reverse.
Likes
(

0

)
Dislikes
(

0

)