The recently concluded "Electronics Expo" at Junctions Mall of Durgapur has been a huge success. Event like electronics fair has been held for the first time in the industrial town of Durgapur. World's leading brands in electronics participated in this nine day long expo which started on 10th March and ended on 18th March.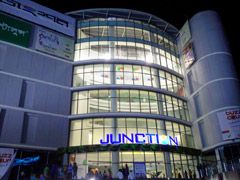 Besides there was an exciting series of events and a unique "Grab-a-scratch-card-offer" where there were enthralling prizes that were to be owned for all the nine days. Though the last three days saw the greatest influx of crowd but the first six days also saw quite a good number of visitors as well. The people of Durgapur got a taste of the latest in electronic gadgets and experienced how these electronics' items can change the face of life.
Added attraction of the expo was certain special events that drew large crowds. On 10th and 11th March there was Inter-college fashion show competition and Photography competition as well. The photography competition saw some rare and unique photos on display which brought the talent of the people of Durgapur. Between 12th and 16th March there was Sit n draw, IQ test and Dance competition for kids. On 17th and 18th March Technova, the Techno and Electronic Innovation Competition was a huge success and some of the innovative models on display surprised many. On 17th and 18th March the Inter-College dance competition, Nachle was also a super hit.
Junction Mall is eastern India's biggest mall and is spread across a massive 4.3 lakh square feet area. Junction mall is already one of the most successful malls across all metro cities. There is no denying the fact that all the citizens of Durgapur feels proud to have such a world class mall in their town which has undoubtedly gave Durgapur a facelift. These kinds of expo and fair will certainly make the mall popular and give Durgapur the much needed lift to count it as one of the most important city of India.
Likes
(

1

)
Dislikes
(

0

)