Essar Oil's coal bed methane (CBM) gas project at Durgapur has again been stopped due to agitation by villagers under the leadership of local Trinamool Congress leaders. Repeated stalling of work at various locations of this project in the past has already delayed the project.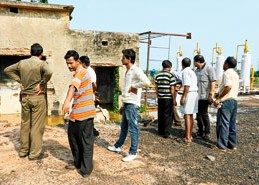 The Essar CBM project is key to the upcoming Rs 5000 crore Matix Fertilizer plant at Panagarh. Also, the additional CBM gas is all set to change the socio-economic scenario of Asansol Durgapur industrial belt.
About 60 villagers led by local Trinamool leaders stalled construction of a water treatment plant of Essar Oil's CBM project in Durgapur, yesterday. The protest was in retaliation to the sacking of a watchman named Anawarul Midda on Saturday by a private agency entrusted with the job to supply guards to Essar plants.
Yesterday, the villagers led by Kebu Banerjee, the Trinamool president of Kanksa block, threatened the 15-odd Essar employees with dire consequences. Till late this evening, the protests continued. Work carried on as usual at the other units of Essar in Durgapur
"The private agencies decision to sack Midda was unjust. We will not allow work here unless he is taken back. Essar Oil is after his one-bigha plot that it wants to acquire. But as Midda has refused to sell the plot, the company has sacked him," said Trinamool Kebu Banerjee.
Although officials of the private agency remained tight lipped on its decision to sack Midda, sources said that Midda used to drink at work, which led to his suspension.
Yesterday, the protesters stopped vehicles carrying waste water from the treatment plant to the company's several exploration sites in the area. A police team visited the spot at around 12.30 pm from Malandighi outpost after Essar officials informed them about the matter. But the villagers refused to relent.
Rabin Ghosh, an Essar spokesperson, said from Mumbai, "we will discuss the matter with the guard in the coming week. We hope to solve the issue through dialogue." Asked if the company wanted to acquire the one-bigha plot from Midda, Ghosh said he was not aware of it.
Meanwhile, Industry Minister Partha Chatterjee will tomorrow inaugurate an exploration and production office of Essar Oil in Durgapur. He will also visit one of the project sites from where coal bed methane is being extracted.
When asked, Minister Partha Chatterjee said, he was not aware of the protest in Durgapur but warned that such demonstrations would be strictly dealt with.
In January this year, work at the CBM project of Essar Oil at Jathgoria village in the outskirt of Durgapur was stopped due to agitation by Trinamool supporters. In February, work at the CBM project was again stopped at the Labnapada and Dhaboni village under Faridpur near Durgapur due to demonstration by Trinamool supporters. A few days latar, the project work was again hit by fresh agitation by Trinamool supporters at Malandighi in Durgapur.
Likes
(

0

)
Dislikes
(

0

)