Allegation and controversy marred the state conference of INTTUC which was held at Rajiv Gandhi Mela Maidan of Durgapur, yesterday. The second state conference of INTTUC, the labor wing of Trinamool Congress also saw, much lower, than expected attendance.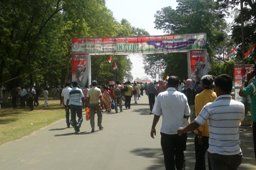 Massive spending on the event has not only raised eye-brows of many but has also been questioned by prominent INTTUC leader like Sobhandeb Chattopadhyay, who even stayed away from the conference as a mark of protest.
"I deliberately skipped the conference in Durgapur to protest the way the leaders have spent on the event. Where does the money come from?" questioned Sobhandeb Chattopadhyay, a veteran Trinamool trade union leader who has recently been sidelined in the INTTUC. Chattopadhyay also pointed to chief minister Mamata Banerjee's repeated requests to Trinamool workers not to collect subscription.
Among the prominent Trinamool ministers and leaders present at the meeting today were Partha Chatterjee, Purnendu Bose, Malay Ghatak, Subrata Bakshi and INTTUC state president Dola Sen.
Several businessman of Durgapur-Asansol has alleged that Trinamool trade union leaders forced them to pay up for the state conference but did not issue any receipt.
"Some local Trinamool leaders came to my office last week and demanded Rs 1 lakh as donation for the conference. I told them that I would not be able to pay so much as my business was not doing well. They finally agreed to take Rs 50,000. I have to run my business and I don't want any trouble," said a promoter in Durgapur who requested anonymity for fear of a reprisal.
A brick kiln owner in Asansol said he had to shell out Rs 25,000 to union leaders last week. "They demanded Rs 60,000 but scaled down to Rs 25,000 when I pleaded. They did not give me any coupon," he said.
INTTUC state president Dola Sen rubbished the claims and denied the allegation for extortion. "It was CITU that used to extort industrialists. We raised the funds ourselves. We did not print any coupons," she said. Sen declined to discuss the budget for the event.
Even industries minister Partha Chatterjee told the annual conference that the INTTUC had made "history" as it had not asked any businessman to contribute. "We have set an example by not collecting any subscription from businessmen for the conference. Our workers and members contributed to raise the money. We did not print any coupons. It is historical," he said.
According to an INTTUC leader, the district leadership had assigned several workers to raise money for the conference. "I had no option but to force local promoters and traders to contribute," said a Trinamool youth wing leader in Durgapur. Sources said the Burdwan Trinamool unit had set aside Rs 80 lakh for the conference to which around 30,000 workers were invited.
Mrinal Basu, the owner of Anima Decorators that was appointed to built the stage and supply chairs at the recent Mati Utsav in Panagarh, said, "I have received Rs 5 lakh as advance to make a makeshift auditorium, a stage, six makeshift dining halls and supply chairs in the state conference of INTTUC and Trinamool leaders have told me that the remaining Rs 20 lakh will be given after the event." Trinamool insiders said the Rs 20 lakh would be paid by a private steel plant.
Absence of another prominent INTTUC leader, Subrata Mukherjee has also raised many questions including factionalism within the union. Many in the audience whispered about the absence of the two veteran INTTUC leaders who has been the face of the labor wing of Trinamool Congress before coming to power in the state.
Likes
(

0

)
Dislikes
(

0

)