Trinamool Congress supremo, Mamata Banerjee had to step in to stop factional feud in the party's labour wing, INTTUC. The industrial town of Durgapur in past few days witnessed severe clashes between the two factions of INTTUC.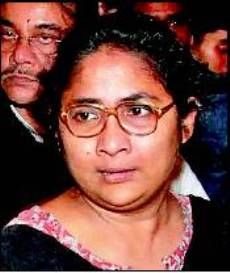 In the wake of such crisis, Trinamool chief, Mrs. Mamata Banerjee, on 4th June has disbanded the national committee she had set up nine months ago to streamline her party's trade union activities. She has asked the state committee to act as the nodal body for providing affiliation to the respective units of the labour front in industries. Panchayat minister Subrata Mukherjee and the state president of the Indian National Trinamul Trade Union Congress (INTTUC), Dola Sen, have been asked to monitor the day-to-day activities of the trade union.
The image of INTTUC was tarnished owing to infighting. On last Sunday at Amrai village three policemen and a dozen labourers from the 'official' and 'unofficial' groups were injured over the issue of absorption of contractual labourers at SAIL's Durgapur Steel Plant. Twelve INTTUC members from the two groups were arrested. Even on Monday, the two union of INTTUC clashed with each other at the Main Gate of Durgapur Steel Plant (DSP). State Police and CISF unit of DSP intervened and removed the supporters of both the unions.
The groups started muscle-flexing, especially after Mr Sobhondeb Chatterjee, leader of the central committee, held a meeting at Durgapur on 22 May and claimed: "It was the central committee that holds the exclusive right either to give or reject affiliation to any unit."
"Rivalries between different factions are creating trouble in many areas. So the chief minister has decided not to continue with the committee any longer," said Mukherjee, who is also the INTTUC national president.
Yesterday, a meeting was held at Subrata Mukherjee's office in the New Secretariat building, where Pradip Banerjee, the chief of the disbanded national committee, veteran labour leader Sobhandeb Chattopadhyay and Trinamool secretary-general Partha Chatterjee were present. Sources said the decision to disband the committee was conveyed to Pradip Banerjee and Chattopadhyay at the meeting.
After the dismantling of the central committee, Mr Chatterjee said: "In every functioning trade union it is the central committee that is supposed to regulate affiliation matters. The state committee can only be informed about the developments but it is not allowed to dictate terms. Here we have seen just the reverse and our party has taken such a decision. I have nothing to say."
Dola Sen refused comment, saying she would not discuss organisational decisions in public. "I have nothing to say. The chief minister has taken the decision."
The Trinamool sources said Chattopadhyay, who is also the government chief whip, had been at loggerheads with Sen for quite some time. According to the sources, in the past few months, Chattopadhyay has been sidelined in the INTTUC while Sen, known to be close to Mamata, has gained prominence.
Likes
(

0

)
Dislikes
(

0

)