In an incident of broad day-light shooting, former CPI (M) MLA Dilip Sarkar has been shot dead by four motor cycle borne miscreants at Burnpur of Asansol today. The former MLA was a secretariat member of party's district committee and was one among the influential CPM leaders of the area.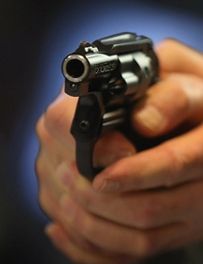 According to the police, the four miscreants pumped bullets into Mr. Sarkar (65), District Secretary of the CITU, when he was out for his morning walk, today morning. In critical condition, Sarkar was shifted to local hospital where he was declared dead.
One may recall that last year on 10th May, Arpan Mukherjee, son of former CPM MLA of Asansol, Bamapada Mukherjee was shot dead near the Burnpur Stadium when he was out for his morning walk.
Today it happened around 6.45am at the Puranhaat area of Burnpur, a relatively less crowded region, so no one could chase or resist the assailants.
Locals claimed that one among the assailants was a woman. Eye witnesses claimed that the assailants were at least four and came on two motorcycles. They shot from a close range and fled in their two-wheelers.
Police from Durgapur-Asansol have initiated a probe. Two bullet marks were found on his back. Police are yet to confirm the motive behind the murder. "It could be political," said an investigator who did not rule out personal enmity angle as well.
The city is known for the domination of coal mafias and police have reasons to believe that the mafia gangs may have involvement in the murder.
However, local CPM leaders blamed the Trinamool Congress for the murder. CPM Burdwan district secretary, Amal Halder claimed, that the miscreants who murdered the veteran leader were all close to Trinamool Congress. He demanded immediate action by the police to arrest the assailants.
CPM leader Madan Ghosh pointed to the fact that police didn't arrested anyone after Arpan Mukherjee the son of Bamapada Mukherjee, former CPM MLA of Asansol was murdered in broad daylight last year. This only bolstered the goons and anti-socials.
Condemning the incident, Polit Bureau of CPI(M) said that the heinous killing is part of the systematic efforts to physically eliminate the leaders of the CPI(M) and the trade union movement. The CPI(M) demands a proper investigation and the arrest of those guilty of this crime. The Polit Bureau conveys its heartfelt condolences to the family members of Dilip Sarkar.
Locals, across party lines, spoke out against the deteriorating law and order situation in the area. Though the area came under a commissionerate after the new government came to power in the state, there has been no marked improvement in the situation, they said.
Likes
(

0

)
Dislikes
(

0

)