Durgapur witnessed a massive protest rally organized by the Bardhaman District Left Front (Bardhaman Zila Bamfront) yesterday. People of Durgapur have never witnessed such a huge rally in which people from several parts of the district took part spontaneously. All the leading names of district left front were present in the rally. Secretary of C.P.I.M Burdwan district committee, Amal Haldar, Durgapur M.P, Saidul Haque, Asansol M.P., Shri Bansa Gopal Chowdhury, former Durgapur legislator, Shri Biprendu Chakroborty, prominent C.P.I.M leader Shri Ajit Mukherjee, Laltu Sengupta and many others were in the forefront of the rally.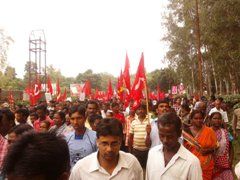 The peaceful and disciplined rally started from Gandhi More of Durgapur at 3 P.M. The massiveness of the rally can be gauged from the fact that the rally took nearly 57 minutes to cross a single point of the road. The rally was in protest of several central and state governments' policies and demanding restoration of peace and democratic rights of the people. The issues behind this protest rally includes, the recent hike in the prices of petrol and diesel, lifting of subsidy by the central government from LPG cylinders, FDI in retail sector, forcible ouster of contractual workers from industry, recent rise in the incidents of attack on women and several others.
Durgapur – known to be a stronghold of the left has a rich history of workers' struggle. But recent defeat of the left front candidates in both the assembly seats of Durgapur and in Durgapur Municipality Corporation election was a big question mark to the diminishing left power in Durgapur. However this rally proved everyone wrong and the success of the rally brought back cheer in the faces of the district committee leaders of the left front. The enthusiastic and spontaneous participation of the masses made it clear that left front still continue to be a major force in this industrial town.
Likes
(

0

)
Dislikes
(

0

)