Durgapur police busted an illegal arms manufacturing factory in Durgapur yesterday. The sensational news took everyone by surprise and once again points to the detoriating law and order situation in the city of Durgapur.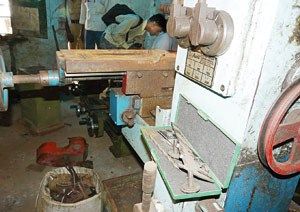 Acting on a tip-off a police team led by SI Rajsekhar Mukherjee raided the factory at Nayeem Nagar locality adjacent to Benachity Bazaar, in ward no. 14 under the Durgapur Municipal Corporation on yesterday early morning. Huge cache of weapons, raw materials and machineries were recovered and four persons have been arrested from the well equipped hideout.
Of the arrested four persons, Mohammed Kailu, Mohammed Mehboob Ali and the head mechanic Mohammed Rizwan were caught red-handed. The owner of the house, Sheikh Shagird, brother of the kingpin Firoz, Hasan was arrested latar. Firoz is however absconding. Police sources said that the arrested three workers of the factory were brought in from Munger district of Bihar about a month ago.
Several crude firearms of different bores – four 9 mm, one 7.6 mm and five 8 mm guns, besides 151 rounds of live ammunition and gun-manufacturing equipment, including a lathe machine, one mechanised drill, one hand drill, one grinding machine and several dices have been recovered from the premises and seized.
According to police, the arms unit in Nayeem Nagar was set up two years ago by Munger resident Firoz Hasan, who "supplied weapons" to Maoists in Bankura, Purulia and West Midnapore.
Sunil Yadav, the additional deputy commissioner of police (east) said: "Maoists used to buy weapons manufactured in the factory." Asked if there is any information about bulk supply of weapons in the run-up to the forthcoming panchayat polls, Yadav said; "We have no such information. We are probing that."
CPM leadership in Durgapur alleges that Trinamool had been procuring arms from the factory to intimidate Left cadres before the polls.
Local Trinamool councillor, Rakhi Tiwari, accused the CPM of cooking up stories. "We have no links with the factory."
The Mayor, Mr. Apurba Mukherjee, said: "It's really scaring that a full-fledged arms manufacturing unit was operating in the town."
Local people allege that Sheikh Firoz Hasan is a well known notorious guy who had already been arrested earlier for coal smuggling and motorcycle robbery. Some local residents on assurance of anonymity revealed that Firoz has often been seen in Trinamool rallies and meetings.
The arrested have been charged under Sections 24, 27, 35 and 36 of the Arms Act and, according to Mr. Sunil Yadav, ADCP (East) of Asansol Durgapur Police, "They may also be charged under several sections of the Unlawful Activities Prevention Act, 1967. We are investigating the matter."
To watch the arms and ammunition recovered, check out the video at: http://www.youtube.com/watch?v=104Ro4ivK_U
Likes
(

2

)
Dislikes
(

0

)