Illegal lifting of sand from Ajoy and Damodar riverbed in Durgapur sub-division has in recent times grown unabated. Not only is this illegitimate excavation of sand intensified the trend of erosion in both the rivers, but has also taken a severe toll on the state exchequer resulting in substantial decrease in revenue target in the Durgapur sub-division blocks this year.
According to the senior Land & Land Revenue officials and police the illegal lifting is carried out by the organised mafia in the Laudoha, Kanksa and Pandaveswar blocks since months despite of repeated warnings by the district authority.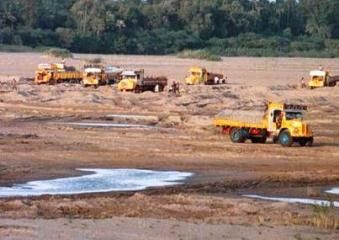 Though there is a legal framework prohibiting sand mining in most Indian states, but in almost every river you will find this activity of indiscriminate sand excavation from the riverbed going on unabated.
The sand lifters, who are infamously called "sand mafia," in nexus with local politicians and government officials not only plunder the environment but also the state exchequer as well. Conservative estimates suggests that in India, these sand mafia's purge the depths of river for profitable sand, amounting to an illegal yearly turnover of nothing less than INR 1000 crore.
The extraction of sand from riverbed is governed by state laws. According to the Mines & Minerals (Development & Regulation) Act' 1957, amended in May 2012 by the Bengal government, those who want to mine sand must obtain a license from state authorities and pay a royalty on the amount they extract. These fees generally amount to about 8 per cent of the sale price.
The mafias however pay virtually nothing and plunder sand all around the year. In the Ajoy riverbed in Kanksa and Pandaveswar adjacent to Durgapur, it can seen that the mafias have planted Heavy Earth Moving Machineries (HEMM) for sand lifting in the Ajoy riverbed and in certain locations they have erected causeways in the riverbed to help movement of truckloads and machineries.
In Pandaveswar the illegal excavation of sand has been assessed to be worth a huge amount as the legal permit holders were dispatching the sand from the riverbed in bulk by exploiting the valid challans illegally.
Land & Land Revenue officials seized two truckloads coming from Pandaveswar on last Monday and one tractor last Wednesday. The vehicles were sent to police custody but the culprits behind the pilferage couldn't be nabbed. The valid permit holder in Ramnagar in Pandaveswar, Kartik Nayek was accused of sending several truckloads against a single challan. In Sidhaghat, Shyamla, Kendra ghat in Pandaveswar the goons have found a safe haven for the purpose.
On 26 November three truckloads carrying sand without valid papers were seized and were handed over to the New Township PS in Durgapur and on 27 November two lorries carrying unauthorised sand were intercepted at Darjeeling More in Kanksa by the land officials.
But in the absence of a stringent law and presence of political connection, perhaps nothing much can be done to stop this plunder.
Likes
(

0

)
Dislikes
(

0

)