Industrial towns of Durgapur and Asansol, along with the rest of Bengal, celebrated the 152 birth anniversary of world poet and Nobel laureate Rabindranath Tagore, yesterday. Amid melodious songs and appealing poems of the poet, Gurudev Rabindranath Tagore has been remembered by the residents of both Durgapur and Asansol.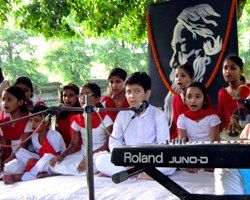 The celebration of the birthday of Rabindranath, popularly known as "Rabindra Jayanti" celebration started from early morning as "Prabhatferi's were taken out at various places. Two separate organizations, "Charraka" and "Nrityabritti Batayan" took out "Prabhaferis" in the early morning.
In many localities, cultural events were organised to commemorate the birthday of Kabiguru Rabindranath by rejoicing the bard's songs, poems, plays and dance-drama of the poet. In schools and colleges, students dressed themselves up in traditional sarees and kurtas and participated in 'Rabindra Jayanti' celebration.
At the Kumarmangalam Park of Durgapur, Nikhil Bharat Bango Sahitya Sammelon organized various programmes from 7 am in the morning. Peoples from all sections of the society remembered the great poet by dancing to the tunes of Tagore's composition, singing his songs and reciting his poems.. At the Srijoni Auditorium of Durgapur's City Centre, acultural programme was organized by the Durgapur Municipality Corporation.
On the other hand, Asansol Municipality Corporation decided to celebrate the birthday of the Nobel laureate Rabindranath Tagore, for five days starting from yesterday. Apart from Asansol Mayor, Tapas Banerjee, several other distinguished personalities of Asansol paid their homage by putting garland on the idol of Rabindranath Tagore adjacent to the Rabindra Bhavan.
Likes
(

0

)
Dislikes
(

0

)